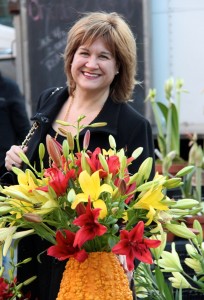 Karen Page is one half of the team known as Page and Dornenburg (or Karen and Andrew). Together they have have written groundbreaking books chronicling and celebrating America's culinary revolution that have won every major gastronomic book award (including Georges Duboeuf Wine Book of the Year,  Gourmand World Cookbook Award – Best in the World, IACP Cookbook of the Year, and the James Beard Book Award for Best Writing on Food.)  Their books have been translated into multiple languages (including Chinese, French, German, and Russian), cumulatively selling the better part of a million copies.
I know Page and Dornenburg  from their classic book The Flavor Bible: The Essential Guide to Culinary Creativity, Based on the Wisdom of America's Most Imaginative Chefs, and when found out that they had published a new, vegetarian version of the book, I could hardly contain my excitement. It's quite an impressive tome, and the new book is actually about 200 pages longer than the original.
I recently had the chance to talk to Karen Page, and we chatted about The Vegetarian Flavor Bible, vegan living, and of course, food.
Chic Vegan: I know that you're a vegetarian leaning toward veganism. What prompted you to change your diet?
Karen Page: A birthday ending with a zero is always a good occasion to assess one's choices in life. Having lost my father and stepmother to cancer just before a big birthday was approaching made me start to think harder about my food choices. After I began researching healthful diets, I came across Michael Pollan's line in In Defense Of Food that "In all my interviews with nutrition experts, the benefits of a plant-based diet provided the only point of universal consensus." My husband Andrew and I decided to eat "99% vegetarian" starting in May 2012, and have evolved to a point where we're eating "99% vegan." For the month of January 2015, we've decided to celebrate "Veganuary," and are eating 100% vegan.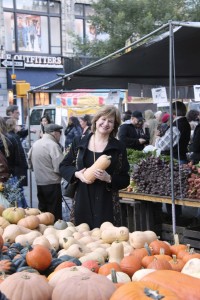 CV: Did you find the dietary switch to be difficult?
KP: It was surprisingly easy to stop eating meat. We eat at all the same restaurants we always ate at – as we're based in Manhattan, where we have a wide range of ethnic restaurants within walking distance of our home, from Ethiopian to Indian to Thai — and just scan the menu a little harder to find the vegetarian or vegan dishes we'd usually have passed over previously. All the positive reinforcement – better skin and hair, more energy, even significant weight loss (as we each lost 20+ pounds) – made it even easier. Eating vegan at home is easy – we simply don't buy eggs or dairy products anymore. But at times we've found it harder to eat vegan when we're traveling. The rest of the world just seems to be getting the memo!
CV: When people learn that you're vegetarian, what is the #1 question they ask, and what is your response?
KP:  Early on, well-meaning friends would ask us the #1 question asked of most vegetarians and vegans: "So, how do you get your protein?" And we've since learned that it's a great opportunity to let them know that many plants contain protein, too! In fact, that question is why I decided to include macronutrient profiles of various foods in The Vegetarian Flavor Bible – so word could get out that broccoli consists of 73% carbs, 17% protein, and 10% fat, and that whole-grain pasta (e.g., whole-wheat spaghetti) contains 81% carbs, 15% protein, and 4% fat. Since we don't need – and as it's not healthful to have — more than 10% of our calories coming from protein, we could eat nothing but broccoli and whole-grain pasta and get sufficient protein in our diets! But as we need other vitamins, minerals, and other nutrients, too, it's important to enjoy a wide variety of plants that can supply them. I'm grateful to have The Vegetarian Flavor Bible on hand to help me make sure they're all delicious.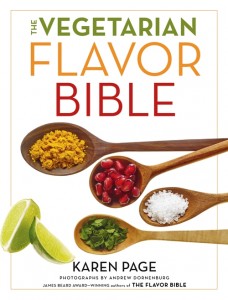 CV: Your book The Flavor Bible is a culinary classic. What motivated you to write your newest book The Vegetarian Flavor Bible?
KP:  I essentially wrote the book that Andrew and I needed to read in order to thrive on our new plant-based diet. We wanted to know how to make all the great vegetables and legumes and grains we were eating more often taste wonderful, and to have ideas at our fingertips for combining them into new dishes. While the original Flavor Bible had one-quarter page on lentils, The Vegetarian Flavor Bible has six pages on lentils – and differentiates how to cook with black, brown, green, red, and yellow lentils. And while The Flavor Bible had five pages on mushrooms, The Vegetarian Flavor Bible has more than 16 pages on them!
CV: Did you learn anything that surprised you when researching for The Vegetarian Flavor Bible? 
KP:  When I first thought of including a brief timeline of events in vegetarian and vegan history in Chapter 1, I thought about starting in Berkeley in the late 1960s. But the more I researched, the more I learned that surprised me – so the timeline actually begins ~3000-2000 BCE with the founding of the Hindu religion, which teaches that humans should not inflict pain on other animals and led to the peaceful and compassionate practice of vegetarianism.
The rise of veganism appears to parallel the rise of factory farming for meat, eggs, and dairy, which now comprise 99 percent of what's consumed in the U.S. That was shocking to me. The day I read in Jonathan Safran Foer's book Eating Animals that 250 million baby male chicks are destroyed (e.g., via suffocation) every year as a "byproduct" of factory-farmed egg production – because those that can't lay eggs are of no use — was the day I swore to never again eat a factory-farmed egg. I think most Americans would be as shocked as I was to learn that what I used to think of as a simple, inconsequential breakfast choice was contributing to so much suffering.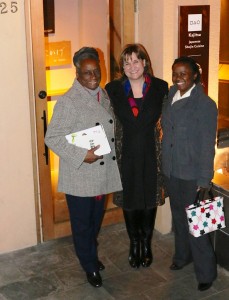 CV: What's the best way to put The Vegetarian Flavor Bible to use when cooking at home?
KP:  Have fun with it! Look up an ingredient you're interested in, and scan the lists of flavor pairings to choose one that goes well with it. Then select another that complements both ingredients – making sure that every new ingredient you add to a dish goes well with every ingredient you've already selected. When Andrew first brought home chia seeds to play with, I turned to that page in the book and just started reading about them: what they taste like, what their nutritional profile was (53% fat, 35% carbs, and 11% protein), how to use them, and what flavors pair well with them. I never turned to a recipe book – I simply soaked them in almond milk and let them absorb the liquid, as the Bible told me they would. And I got ideas for how to flavor them with apples + cinnamon + maple syrup, or with cashews + coconut milk + dates.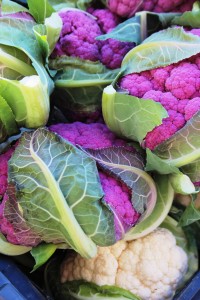 CV: Do you have a favorite vegetable?
KP: I just asked Andrew – who is a former professional chef so he ends up doing most of the cooking in our home — and he said without hesitation, "Cauliflower!" I do love cauliflower, which I grew up eating dipped in cracker crust and fried. Today, I prefer it in soups, stews, and curries. And I also love legumes – number one, they're delicious – and number two, because nutritionally you can count them as either a vegetable or towards your daily protein requirement.
CV: What's the best vegan meal you've ever eaten?
KP:  To celebrate our anniversary in August 2013, we experienced the vegan tasting menu at Eleven Madison Park in New York City, which has been rated the #4 best restaurant in the world by Restaurant magazine. That was one of THE very best meals of my life, and it just happened to be vegan. The menu appears on page 85 of The Vegetarian Flavor Bible and includes 14 courses, six of which were miniature desserts. One of them was a classic New York "egg cream" made with soy milk. The entire experience was magical.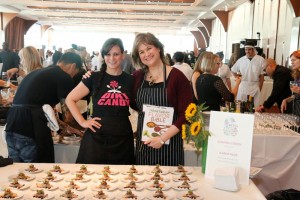 CV: As someone relatively new to the vegetarian world, do you have any advice for someone who'd like to get a plant-strong diet but doesn't know where to start?
KP:  When you eat out, order whatever you'd typically order, just without meat. If you love Mexican food, you can still have burritos filled with veggies and guacamole and salsa. If you love Indian or Thai foods, you can still enjoy your curries. Andrew and I love pizza, and at first we started ordering it with mushrooms instead of meat, and then we asked for our mushroom pizza with just a light sprinkling of cheese, and now we get it with just tomato sauce and mushrooms and roasted garlic and NO cheese. And we still love it. Eating this way educates us and gives us more inspiration for when we cook at home.
CV: In your wildest dreams, what will your life look like in 5 years?
KP: It will look similar to the way it looks now, in that I'll still be living in New York City, married to Andrew, and creating groundbreaking books that people tell us make a positive difference in their lives – except that I will never have impatience with imperfection, a messy desk, or chipped nail polish!