Christy Morgan is a holistic nutritionist, educator, vegan macrobiotic chef and author of Blissful Bites; Vegan Meals that Nourish Mind, Body and Planet. She's better known as the Blissful Chef, and her delicious, easy to make recipes will bring more energy and bliss to your life from the inside out.
Meet Christy Morgan…
CHIC VEGAN – WHAT MOTIVATED YOU TO BECOME VEGAN AND WAS IT AN OVERNIGHT SWITCH OR MORE GRADUAL SHIFT?
CHRISTY MORGAN – It was an overnight switch actually. About 10 years ago a good friend showed me the Meet Your Meat video on PETA. I was shocked by all the abuse and torture and didn't want to contribute to it. So we made the commitment to go vegan together. She had been vegetarian for most her life before so she showed me what I could eat. I had to teach myself how to cook in this new way. I fell in love with cooking vegan food and sharing it with others and that is when I decided to switch careers and go to culinary school.
CV – YOU STARTED OUT IN THE FASHION INDUSTRY, RATHER THAN THE FOOD WORLD. WAS IT DIFFICULT TO TRANSITION CAREERS?
CM – I was having difficulty breaking into the business of fashion in Los Angeles and was working for free on movie sets in the wardrobe department. So it was a pretty easy decision to change careers. At the time I had no idea what my food career would become but I took a leap of faith. It was my mission and dream to help others find true health and wellness and to make a difference for the animals. I've done a good job at that and feel blessed to be given the opportunity to help so many people on their journey to blissful health.
CV – I LOVE YOUR COOKBOOK BLISSFUL BITES: VEGAN MEALS THAT NOURISH THE MIND, BODY AND PLANET! WHAT INSPIRES YOU TO CREATE NEW RECIPES?
CM – Why thank you! People really seem to be loving it because it's different than most the vegan cookbooks out there with it's emphasis on whole foods and eating seasonally. Since I'm a huge fan of eating local, seasonal foods I'm inspired by a trip to the farmer's market; the fragrance of fresh herbs, the vibrant colors of the produce, the plump fresh bread, supporting the local economy. All these things inspire new recipes. I'm hugely inspired by ethnic cuisines like Thai, Vietnamese, Japanese, Mexican, and Indian. You'll find many of my recipes combine different, but complimentary, ethnic flavors together in new ways. Often I'm trying to recreate foods I loved as a child in a healthy way or that I've tried at a fancy vegan restaurant. Sometimes I get ideas right before I go to bed or in the shower, so paper or phone is nearby to jot down those ideas.
CV – WILL THERE BE ANOTHER COOKBOOK ANYTIME SOON?
CM – I'm sure there will! I've got many ideas for future books and I'm in the process of talking with publishers. Right now my main focus is developing a new wellness program for both businesses and individuals. It's called The Wellness Reboot, which will give me an opportunity to help more people on their paths to good health.
CV – TELL ME A LITTLE BIT ABOUT THE WELLNESS REBOOT AND WHAT MOTIVATED YOU TO CREATE IT.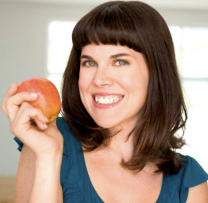 CM – It's a 30 day program for businesses and individuals in a group setting. It will give employees skills that will not only improve their ability to do their jobs better and more efficiently but they can take what they learn to their family and friends. Studies show that everyone benefits from corporate wellness programs and they are essential for the health of companies.
Individuals have the option to join a small group of people each month to learn all the skills they need to make healthful meals at home and to improve any health issues they may be suffering from like obesity, diabetes, high cholesterol, etc. The program will include a 30 day meal-plan, tips for shopping and saving money, how to cook meals from scratch faster, online cooking classes and continual support.
I've had thousands of people across the world want to work with me and take my cooking classes so it's about time I offer a program like this. The plan is to launch it for the new year and limited spaces will be available each month. If you are interested in learning more and to sign up for our email list please visit wellnessreboot.com.
CV – AS A CHEF AND COOKING INSTRUCTOR, WHAT IS YOUR BEST TIP FOR SOMEONE WHO'S NEW TO COOKING?
CM – Cook as much as possible, take cooking classes, equipped yourself with good tools (like a good chef knife), and never get discouraged. Learn the basics first then get into fancier cooking methods. And also remember to keep it simple. Every meal does not need to be a gourmet cook-a-thon. I guess that's more than one tip, but they are all important to your success.

CV – YOU LIVE IN TEXAS, WHICH IS USUALLY KNOWN AS MEAT AND POTATOES COUNTRY. IS IT DIFFICULT TO LIVE A VEGAN LIFESTYLE THERE?
CM – Thankfully in Austin, the city is very vegetarian and vegan-friendly. Waitstaff doesn't look at you weird when you ask what the vegan options are on the menu. And many regular restaurants have special vegetarian sections on their menus. We also have the largest Whole Foods and a wonderful Coop called Wheatsville. That being said, you can be vegan anywhere in the world as long as you have access to a grocery store. All the vegan food you need can be found there like grains, beans, vegetables, fruit, nuts and seeds. Don't get discouraged if you don't have a natural food store or fancy vegan junk food near you.
CV – WHAT DO YOU TYPICALLY EAT IN THE SPAN OF A DAY AND ARE YOU A SNACKER?
CM – Everyone morning I have a big green smoothie with PlantFusion protein powder (but now that it's getting cold I will probably alternate those with grains/beans/greens plate). I try to stick with whole foods and gluten-free meals. Lunch at home is pretty simple like veggie and tofu tacos with steamed broccoli, a big salad, or a hummus and veggie wrap. If I eat out for a meal it's usually Thai or Vietnamese or one of the vegan food trucks in town. When I cook at home I keep it pretty simple and quick unless I'm feeling fancier or in recipe creating mode. I sometimes snack on sliced veggies, nuts or protein shakes.
CV – WHAT IS YOUR FAVORITE VEGAN INDULGENCE?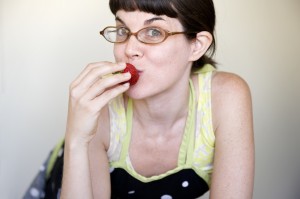 CM – Anything with chocolate. Whether it be a cookie, cake, scone, pudding, tart, or other pastry if it has chocolate in it I'm game. I have a sweet tooth and will always choose a sweet indulgence over a savory one.
CV – IN YOUR WILDEST DREAMS WHAT WILL YOUR LIFE LOOK LIKE IN 5 YEARS?
CM – I'd like to have a few more books under my belt and be traveling the world teaching others how to make delicious, blissful food. My mission is to empower others to find health through food that not only nourishes the mind, body, and soul but the planet. So I hope to continue doing that until I'm not able.