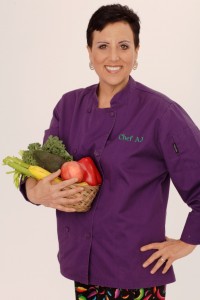 For those of you unfamiliar with Chef AJ, allow me to introduce you.  She is one serious lady when it comes to eating Unprocessed food (In fact, that is the name of one of her books), however she is far from "serious" and is an absolute hoot to be around.  I met Chef AJ about a year ago when she invited me to attend one of her Sunday cooking classes, and a wonderfully vegan friendship has ensued between us…how can you blame me…she is a sweetheart and introduced me to a WONDERFUL vegan ice cream stand after the class (click HERE to read the Veggie Grettie post about it).
Chef AJ's passion for healing through food is contagious and obvious when you watch The Chef and the Dietitian, a web-based cooking show she stars in alongside our very own Julieanna Hever.  To view Chef AJ and Julieanna in action, click HERE.
CV – What motivated you to become vegan and was it an overnight switch or a more gradual shift?
I became vegan in 1977.  I was a Freshman at the University of Pennsylvania.  I was studying to be a veterinarian but I had to cut the head off of a salamander as part of a research project.  There was no PETA or PCRMback them to help me.  I followed orders and that was what Oprah calls an "aha moment".  I realized I could never kill anything again for any reason and in that second I decided to never eat or wear animals again.  Unfortunately, I also got thrown out of the pre-vet program.
CV – Tell me a little bit about "Unprocessed" and what inspired you to write it.  Do you have any other book projects in the works?
I have been a culinary instructor for over 12 years and have heard every imaginable excuse as to why people can't follow a plant based diet.  My favorite was "my life is too hard and I have mental problems".  That got me thinking "if you only knew" and so the seed was planted.  I also wanted to share my story of how even though I had been vegan for 26 years,  I still was diagnosed with precancerouse polyps in my colon from all the vegan crap I was eating.  I wanted people to understand that there is a big difference between a vegan diet and a WHOLE FOOD plant based diet.  Just because it's vegan, doesn't mean it's healthy.  All processed food is inflammatory and disease promoting whether you call if KRAFT or organic vegan.  If it comes in a can, a bottle a box or a bag, IT"S NOT FOOD.  If it didn't grown out of the ground, you shouldn't be putting in in your mouth!!! I am currently writing 2 other books.  The second one is based on a program I run in Los Angeles with John Pierre (Ellen de Generes' fitness guru) and it is based on the 30 Day Unprocessed Challenge.  These recipes will all be low fat or fat free.  My third book is all of the oil-free, date sweetened desserts I created the 4 years I was the Executive Vegan Pastry Chef at Sante Restaurant.  Lindsay Nixon, the Happy Herbivore, will be doing the photos.

CV – This is Healthy Taste of LA's third year and the amazing Dr. Caldwell B. Esselstyn will be the keynote speaker this year…you must be so excited!
I am doubly excited because in addition to Dr. Essesltyn being the keynote speaker, his lovely and energetic wife, Ann, (who wrote all of the recipes for "Prevent and Reverse Heart Disease" will be doing a culinary demo.  Chef Eric LeChasseur from Seed Kitchen and Ann Gentry from Real Food Daily will also be presenting.  There will be a private dinner honoring Dr. Esslestyh the night before.  You can purchase tickets at www.HealthyTasteofLA.com
CV – I have been to your cooking classes before and witnessed you creating some amazing healthy foods (LOVE that we got to sample throughout the class).  Is it your passion to teach this lifestyle to others?   
Absolutely!  My passion is to make a difference in people's life and what better way to do it than by improving their health and longevity while teaching them to make delicious food?
CV – Walk me through a day in your life.
Well, it's really not that exciting but here goes. I travel quite a bit with my book, UNPROCESSED,  speaking and doing culinary demos.  But when I am in town I wake up around 8:00am.  My handsome plant based husband, Charles, is (an associate producer on Days Of Our Lives)  and I make his lunch and green smoothie.  Then I walk my rescued mutt, Sparky, and go to Yin yoga.  The rest of the day is spent reading health related materials like medical journal articles, working on my books and testing recipes.  I get about 500 e-mails a day so lots of time is spent answering them as I do answer all of my e-mails personally.  I take Sparky for another walk in the later afternoon somewhere really fun like the lake.  Then I make dinner for the family and watch Jeopardy.  I spend most of the evening answering e-mails and go to bed around midnight.  On the weekends I teach my culinary classes.
CV – What do you typically eat in the span of a day and are you a snacker?
I don't think snacking is a good idea.  I have to agree with Dr. Fuhrman here.  I f you are eating a nutrient rich diet and eating ENOUGH at your meals, there is no reason to snack.  You just end up eating more calories than you need.  If I did have to have a snack I would eat a piece of fruit or some steamed greens.  My motto is "If you aren't hungry enough to eat steamed greens, you're not hungry."
Most people who snack are snacking for reasons other than hunger. For about 8 years I drank a green smoothie every day for breakfast.  I love them and still make one for Charles every morning but I stopped drinking them this year on the advice of the doctors at True Northwhere I have the privilege to teach every December.  I wanted to lose weight and they explained that those who want to lose weight should not drink their calories.  They explained that digestion begins in the mouth and by chewing your food and digesting it whole, rather than blended, about 25% of the calories are not absorbed as they are expended as energy from the chewing and digestion.  Green smoothies are great for people who don't want to lose weight though and for children and the elderly. For breakfast I eat the most amazing oatmeal ever.  The recipe will be in my next book and I am happy to share it with you now.  For lunch I have a HUGE salad with shredded beets, cabbage, carrot, beans and a delicious fat free dressing from my next book which I will also share. If I am still hungry then I will eat a potato of one color or another.  Dinner is a soup, stew, chili or stuffed potato usually.  We don't eat dessert anymore except for fruit
CV –  What is your favorite vegan indulgence?
Well, since I stopped eating all nuts and seeds this year (and effortlessly lost 12 pounds!) my favorite vegan indulgence would probably be avocado now.  Since it is so high fat I always cut it with either garbanzo beans, cannellini beans or peas.  I also love my fully loaded Nachos.  I make a killer vegan queso!!!
 CV – When people learn that you are vegan (and a vegan chef to boot), what is the #1 question they ask and what is your response?
For 35 years all I have ever heard is "where do you get your protein"!!!  If I had a nickel for every time I heard that I could retire.  You can't be protein deficient on a plant based diet unless you are calorie deficient.  I also love when I tell people I don't eat animals and they say "You don't eat fish"?  Even when I ate animals I didn't eat fish!!!  Fish are not vegetables!!!
 CV – What vegan product could you not live without?
GREENS!!!  They are not only the most nutrient dense food on the planet, but I believe they are the secret weapon in health, longevity and weight loss.  I try to eat 2 pounds a day but usually only make it to one pound   Now that I have a pressure cooker they are ready in 2 minutes!!!  I love them with Louisiana hot sauce.
CV –  In your wildest dreams what will your life look like in 5 years?
In 2017 I will be starring in a HEALTHY vegan cooking show and working full time as a health educator at a place like True North.
CV –  Click HERE to find out how AJ recently lost A LOT of weight.
CHEF AJ'S RECIPE SNEAK-PEAKS
Quick 6 – Fat-Free Salad Dressing
With equal amounts of 6 simple ingredients, this homemade dressing comes together in minutes.  You may never eat bottled dressing again!!!
INGREDIENTS
2 Tablespoons water 2 Tablespoons lemon juice 2 Tablespoons low-sodium Dijon mustard 2 Tablespoons low-sodium miso* 2 Tablespoons Nutritional Yeast 2 Tablespoons Date Syrup**
METHOD
Place all ingredients into a jar and shake until smooth.  Keep in the refrigerator. *Both Cold Mountain and South River make low sodium brands which are available at Whole Foods Markets, Erewhon and on line. **www.organicsareforeveryone.com is my favorite brand of date syrup.  You can also buy date syrup at ethnic markets but it won't be organic.  You can also use whole dates in place of the date syrup but then you need to blend all of the ingredients together in a blender. For a less sweet, tangy dressing reduce the amount of date syrup or omit entirely.
.
Chef AJ's Good Morning Oatmeal
Ingredients
one organic orange* ** 6 ounces of water 1/2 cup rolled oats (not instant) – gluten free, preferred 2 tablespoons currants 1 teaspoon alcohol free vanilla 1 ripe banana sliced thinly with this tool:
http://www.williams-sonoma.com/products/chefn-banana-slicer/
roasted cinnamon (way better than regular cinnamon, available at Ralph's)  
Directions:
Zest orange and juice to obtain 2 ounces of juice.  Add juice, zest and water to small saucepan and bring to a boil.  Stir in the oats and reduce heat to medium, stirring in vanilla and currants.  Cook about 5-10 minutes until done.  Pour into a bowl, top with banana slices and dust with cinnamon.   Drizzle with unsweetened vanilla almond milk, if desired.
*
if you don't have an orange, substitute 2 ounce of orange juice, but then you won't have the zest.
**
for a sweeter oatmeal, increase OJ to 4 ounces and decrease H2O to 4 ounces.