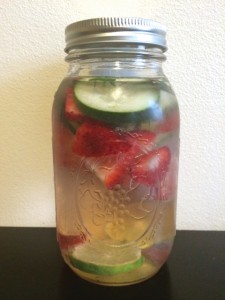 There are soooo many exciting things happening in the vegan food world! You probably know about a few of the trends and delicious foods below, we hope these healthy and healing foods will become even more popular in 2016!
Some of our favorite healthy vegan food trends this year are:
Fruit Infused Water: Water infused with fruit and herbs or veggies makes a refreshing and healthy beverage. While the combination options are endless, be sure to try my favorite – strawberry, lime, cucumber and mint! Additionally, drinking warm water with a squirt of lemon is a wonderful way to start your day.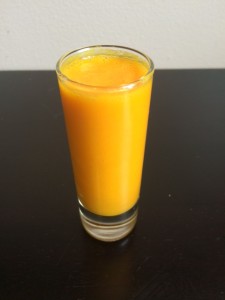 Turmeric Tea: Turmeric has become increasingly popular because of its health promoting benefits. Don't limit this healing spice to tea, however! Add it to other beverages and foods as well. Check out my recent blog post about the new cookbook FOOD LOVE by Tess Challis for an excellent Superfood Elixir recipe using turmeric. You can also enter for your chance to win a copy!
Homemade Juices: Juicing has been popular for some time and with good reason! Fruits and vegetables help prevent a number of diseases and are a great compliment to a healthy and balanced vegan diet. For some superb recipes, check out Kris Carr's new book Crazy Sexy Juice.
Juice Pulp Crackers: Making crackers is a great way to use up the pulp from juicing. Save your green juice pulp and make Dianne's Green Juice Pulp Crackers.
Fermented Foods & Beverages: Make your own kombucha, kefir, kimchi and sauerkraut. Making these foods at home is easy and saves money too!
Homemade Energy Balls: The ingredient options are almost endless and energy balls are easy to make and great for snacking and morning meals or lunch on the go. Try my Goji Berry Energy Balls.
Roasted Chickpeas: Give these healthy, easy and protein-filled snacks a try.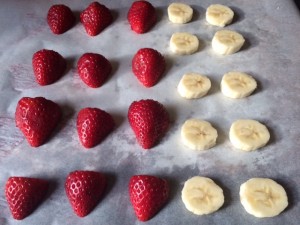 Dried Fruit: Dried fruit is a great snack option for kids and can even be made without a dehydrator at very low temperatures in an oven.
Vegan Wings: You can make healthy and delicious plant-based wings using cauliflower, tempeh, tofu or seitan. Try these Mango Sriracha Cauliflower Nuggets from Vegans Eat What? or these Buffalo Cauliflower Bites from Dianne's Vegan Kitchen.
Hemp Seeds: Hemp seeds are high in Omega 3 healthy fats which is important for vegans so, eat 'em up friends!
Seaweed: Seaweed is the new kale and a great source of iodine for vegans. If you haven't cooked with seaweed before, try these stuffed mushrooms.
Vegan Bacon: Processed animal foods have been closely linked to cancer. So ditch the pig and enjoy bacon made from healthy foods like eggplant, coconut, carrots, and mushrooms! Give Vegans Eat What? Shiitake Mushroom a try.
Vegan Cheese: Plant-based cheeses have come a long way and commercial options have exploded. A few must-try brands include Miyoko's Creamery, Kite Hill, and Chao Slices by Field Roast. It you want to make your own cheese try a few of the recipes from Vegans Eat What?.
Veggie Burgers: Plant-based burgers are nothing new, but people and companies are making some amazing creations with plant ingredients! If you want to buy a commercial brand, try Field Roast and Beast Burgers. To make your own, try a Black Bean and Walnut Burger or a homemade Good Burger.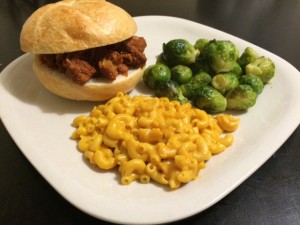 Jackfruit: We could not write a post without mentioning this amazing fruit from Asia. Jackfruit makes an excellent meat/fish replacement in everything from tacos to tuna. VegNews Magazine recently gave a rundown on some of their favorite jackfruit recipes.
Zoodles: Zoodles are made with fresh veggies or fruit processed thru a spiralizer. They are easy to make, fun for the whole family and can be created from a variety of healthy foods including carrots, zucchini, beets, apples, sweet potatoes. You can make a variety of delicious dishes like salads or top with your favorite raw or cooked sauce. Zoodles make a great dining option when you don't know what to do with all your farmer's market veggies and don't want to heat up your home by cooking in the summer.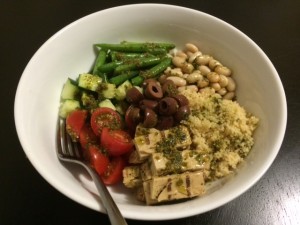 Buddha Bowls: Buddha or Goddess Bowls are delicious and healthy and can be made with an almost endless combination of ingredients. Make your bowl savory or sweet and enjoy it for breakfast, lunch or dinner. Start your day out with a Savory Breakfast Bowl!
Healing foods: Fruits and veggies help your body heal and can prevent many diseases. Eat a wide variety and all colors of the rainbow each day!
Vegan Ice Cream: Plant-based ice-cream is another super easy DIY food. Make it using a base of bananas or coconut milk and a sweetener like maple syrup or date paste, if desired. Check out this delicious Banana Soft Serve recipe from Victoria Moran's Cookbook, The Good Karma Diet.
Aquafaba: If you haven't heard of this amazing liquid, you soon will! Aquafaba is the cooking liquid of beans and other legumes. One egg is generally replaced with 3 tablespoons of aquafaba. You'll be amazed at what you can make using aquafaba. For a complete history go to Aquafaba.com and if you're on Facebook check out the group "Vegan Meringue Hits and Misses".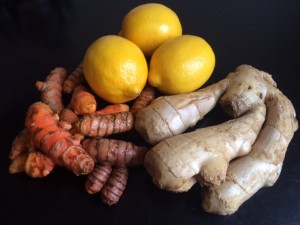 And don't forget the spices: Turmeric; again add this wonderful healing spice to as many meals and drinks as you can! Dr. Greger recommends you eat it every day. We also love using ginger in recipes and drinks too. Ginger has so many healing benefits; I highly recommend you get to know it!
What's your favorite vegan food trend of 2016?