Red chili is all the rage, but its seldom-made cousin—green and white chili—is just as flavorful, perhaps more so. This chili is full of hominy (dried and treated maize), fresh green chiles, and two kinds of white beans. If you cannot find hominy, use thawed corn kernels instead.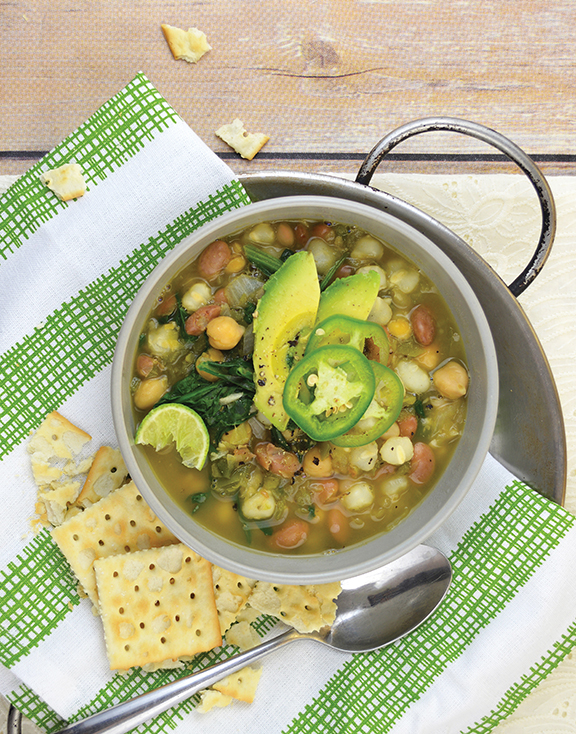 Green and White Chili Bowl
Serves 4 To 6
Beans
4 cups vegetable broth
1 teaspoon dried oregano
1/2 teaspoon sea salt
4 cups cooked cannellini beans
2 (15-ounce) cans white hominy, rinsed and drained
2 cups cooked chickpeas
Vegetables
4 Anaheim peppers, coarsely chopped
1 jalapeño, coarsely chopped
1 medium onion, coarsely chopped
6 garlic cloves, crushed
1 tablespoon grapeseed oil
2 teaspoons ground cumin
8 ounces fresh spinach, tough stems removed, coarsely chopped
Sea salt and black pepper, to taste
2 tablespoons fresh lime juice
1/4 cup coarsely chopped cilantro
1 ripe Hass avocado, pitted, peeled, and coarsely chopped (optional)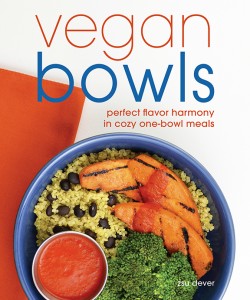 Preparation
Beans: Combine the broth, oregano, salt, cannellini, hominy, and chickpeas in a large pot. Cover and bring to a boil over high heat, reduce to simmer and cook until needed.
Vegetables: Add the peppers, onion, and garlic to a food processor. Pulse until minced. Heat the oil in a large pot over high heat. Add the minced vegetables and cumin and cook until the mixture is dry, about 8 minutes, stirring often. Add the broth and beans to the sautéed vegetables and simmer until the flavors combine, about 5 minutes. Add the spinach and cook until tender. Taste and adjust seasoning with salt and black pepper. Stir in the lime juice and cilantro. Serve with the avocado, if using.
Recipe from Vegan Bowls, copyright © 2015 by Zsu Dever. Used by permission from Vegan Heritage Press, LLC.