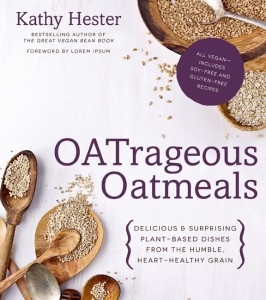 We're thrilled to be hosting Kathy Hester's OATrageous Oatmeals blog tour today!
OATrageous Oatmeals will change the way you look at oatmeal. Gone are the boring oats with bland mix-ins because Kathy Hester has dishes like Italian Veggie and Oat Sausage, Veggie Oat Taco and Oat Pizza Crust Topped with vegan sausage crumbles made from steel-cut oats. She also includes new takes on traditional favorites like Banana Oatmeal Cookie Pancakes and Strawberries and Cream Overnight Refrigerator Oats.
With classic breakfast recipes taken to the next level with unique ingredients, tasty desserts and even savory lunch and dinner recipes, this book is perfect for every oatmeal lover out there.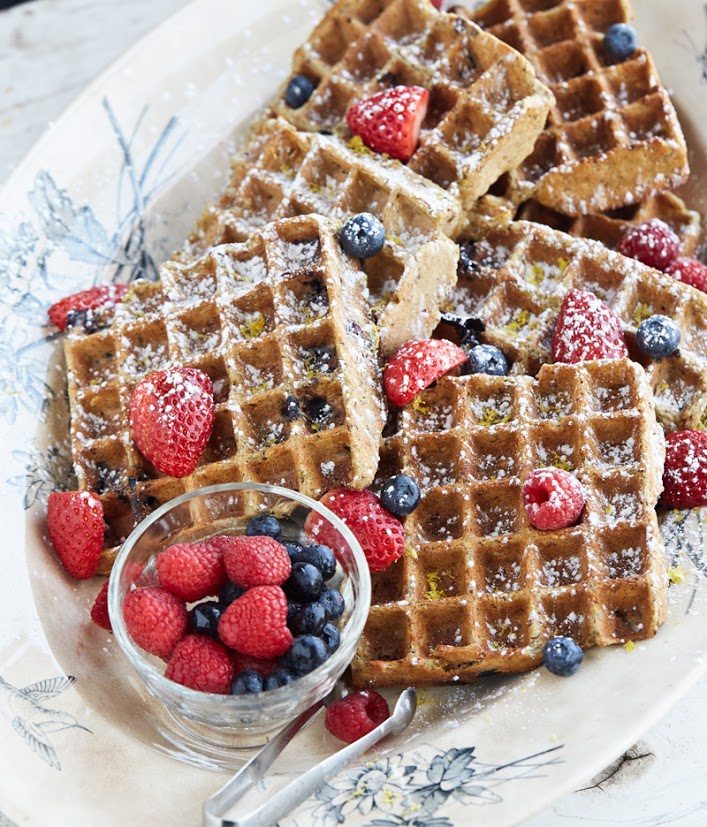 Gluten-Free Lemon Blueberry Belgian Waffles
From OATrageous Oatmeals by Kathy Hester printed with permission of Page Street Publishing
gluten-free, soy-free, oil-free option*
I can't help but add some lemon wherever I have blueberries! If you aren't fond of the combination, use vanilla or almond extract instead. It's very important to cook these waffles at least 5 minutes, if not more. If the waffle is not ready, it will make a mess.
Makes 4 waffles
Dry Ingredients
3/4 cup (69 g) finely ground rolled oats
or oat flour
1/2 cup (48 g) rolled oats
1/4 cup (39.5 g) rice flour
1/4 cup (37.5 g) almond flour
1/2 teaspoon baking powder
pinch of salt
Wet Ingredients
1 cup (148 g) blueberries (fresh or frozen)
3/4 cup (180 g) nondairy milk
1/2 cup (127.5 g) applesauce
2 tablespoons (14 g) ground flax mixed with 4 tablespoons (59 g) warm water
1/2 teaspoon vanilla extract
1/2 teaspoon lemon extract (or 1/4 teaspoon lemon oil)
For Serving
maple syrup
nondairy butter, optional
Preparation
Mix the dry ingredients together in a large bowl until well combined. In a different bowl, combine the wet ingredients and mix well. Then pour the wet into the dry and mix thoroughly.
Set the batter aside for 10 minutes to let the rolled oats soften. Please note that this batter is very thick. Preheat your waffle iron at medium-high temperature if you have that option. The waffle iron should be hot once the batter is ready.
I suggest spraying the top and bottom plates with some spray oil, but you can make it oil-free* by just relying on the nonstick coating. If you choose to use no additional oil, make sure the waffle is completely cooked. If any of the outside is not crispy, the waffle will tear, stick and generally make a mess.
Place about 1⁄3 cup (80 ml) of batter in the middle of the waffle iron and spread into a circle with a wooden spoon or silicone spatula. When you place the top down, the batter will spread. If your mixture gets too thick to spread, add a little nondairy milk to loosen it up.
Cook according to your waffle iron instructions, about 5 to 8 minutes. With my waffle iron, the first waffle takes 8 minutes. As you make additional waffles, the process gets a little faster until it takes 5 minutes for each waffle.
Per waffle: Calories 259.2, protein 6.9 g, total fat 7.8 g, carbohydrates 42.5 g, sodium 90.4 mg, fiber 6.1 g
Don't have a waffle iron? Add 1/4 to 1/2 cup (60 to 120 ml) of extra nondairy
We have a copy of OATrageous Oatmeals for one lucky Chic Vegan reader. Follow the instructions below to enter. US and Canadian residents only, please. Contest ends at midnight eastern time on October 7th. Good luck!

SaveSave