I've watched many films in the past few years that advocate a plant based diet, but none has ever done it as eloquently and as convincing as Forks Over Knives has. This film has saved countless lives and is on a promising path to save many more.
Forks Over Knives covers the work of Dr. T. Colin Campbell, author of The China Study, and examines the profound claim that most, if not all, of the degenerative diseases that afflict us can be controlled, or even reversed, by rejecting animal-based and processed foods.
One in every three people in the United States is overweight. At least 10% of our population has Diabetes and that rate is growing steadily every day. Todays children are said to be the first generation who will not live as long as their parents.  These statistics are staggering.  Yet, there is one thing in common with all of these facts – these afflictions are 100% controllable by a proper diet and lifestyle.  Forks Over Knives does more than just wax poetic on this fact – they show it in action. What you see will change your life.
Forks Over Knives is a profoundly important film. If you care about your health and the health of your family and loved-ones, you will watch this movie and share your knowledge with the world.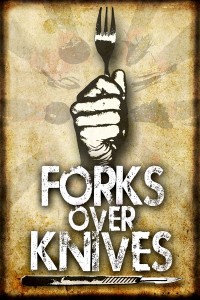 Chic Vegan wants to help the start of this revolution by giving away 5 FREE DVDs of Forks Over Knives.
***All you have to do is leave a comment below stating how you are going to use your DVD (and the knowledge gained from it) to spread the word and create a nutritional revolution. Only those signed up for Our Newsletter are eligible to win, so if you haven't done that yet then get on it! ***
**If you want to be entered to win TWICE, then tweet this: "Win a FREE DVD of Forks Over Knives (@forksoverknives) from @Chic_Vegan! http://bit.ly/pInAEf "
This contest ends on 8/30!!
var addthis_config = {"data_track_clickback":false,"data_track_addressbar":false,"data_track_textcopy":false,"ui_atversion":"300"}; var addthis_product = 'wpp-3.5.9';