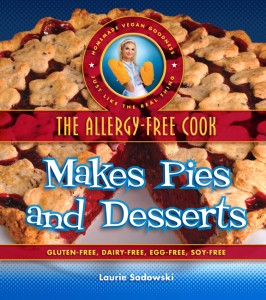 I was thrilled to have the opportunity to review an allergy free cookbook from Laurie Sadowski. The Allergy-Free Cook Makes Pies and Desserts is my first introduction to allergy free baking. As someone who loves gluten and soy, I have little experience with allergy free cooking and appreciated the first three parts of the book that provided helpful information and tidbits about cooking without gluten, soy, dairy, or eggs. Laurie helps the reader understand "Gluten Sensitivity and Food Allergies" in the second section, then provides some helpful "Gluten-Free and Allergy-Free Ingredients" in the second section, and lists some "Additional Ingredients and Smart Substitutions" in the third section of the book. The fourth and final section are "The Recipes" and divided into: Pies and Cheesecakes, Tarts of All Sizes, Cobblers, Crisps and Other Fruit-Filled Desserts, Puddings, and Ice Cream Desserts.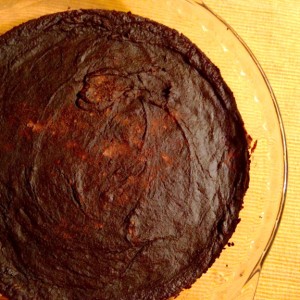 I spent a significant period of time scouring the book for recipes that I would not only appeal to me taste-wise but that I could manage, being a new allergy-free cook. I was relatively familiar with many of the flour substituions gluten-free baking makes but was disappointed to see that almost every recipes included teff flour, sorghum flour and tapioca flour with xantham gum. They seemed to be the base for a majority of the recipes, and as you may know, these ingredients aren't the cheapest alternatives. Laurie lists several "Essential Flours and Starches" in the beginning of the book which include sorghum, quinoa, teff, millet, cornmeal and two starches: arrowroot and tapioca flour. She notes other option flours and starches (amaranth, buckwheat, chickpea, coconut, cornstarch, garfava, nut flours, oat, potato starch, rice) but none of them are actually used in the book. I would have much preferred it if the recipes used a variety of flours and starches rather than just the same ones and I think by including some of the other flours mentioned would have given the book more unique recipes.
I had a hard time deciding which recipes to make because none really stood out to me. There are no pictures of the recipes, unfortunately, which hindered my decision making process. Laurie notes the serving size and nutritional information for each recipe, which I considered to be very helpful.
Finally, I decided on the Maple-Apple-Pecan Crisp and Chocolate-Pumpkin Custards, because I wanted to make some desserts that were autumn inspired and easy to follow. Both of the recipes were pretty tasty. Because I couldn't find my ramekins, I made the custard into a pie (which my boyfriend devoured) and we added vanilla ice cream to the crisp.
I found the "Gluten Sensitivity and Food Allergies", "Gluten-Free and Allergy-Free Ingredients", and  "Additional Ingredients and Smart Substitutions" chapters to be the most helpful sections in the book, and I will most likely refer back to them again.