For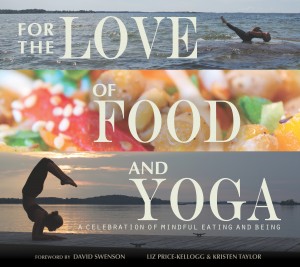 The Love Of Food And Yoga: A Celebration Of Mindful Eating And Being is a unique combination of mindful eating, living, and being.  Authors Liz Price-Kellogg and Kristen Taylor are a yoga teacher and student duo who began to notice the deep connection their yoga practice and the food they ate really had.  With this concept in mind, they set out to write a book that would feed the body and the soul.
When I got this book, I was excited to get right it and start making some of the recipes.  But as I started to look through the book, I found myself drawn into the "YogiBites" that were intertwined with the recipes.  These little bites were words of wisdom, yoga teachings, different poses, and beautiful photographs that tied in beautifully to the recipes.
This book includes 100 "YogiBites" along with 100 real bites, and all of the them are unique and delicious.  There was not one recipe that didn't look tasty.  From Twisted Tacos to So Hum…mus to Delightfully Silly Snow Cones, there is something to satisfy any craving.  You can find plenty of appetizers, sides, soups, salads, dressings and marinades, sandwiches, main dishes, drinks, and desserts.  All of it is nourishing, full of good for you nutrients, and helps you focus on mindful eating.
I really enjoyed trying the different poses, reading the words of wisdom, as well as creating and eating the tasty food that Liz and Kristen created.  If you are looking for a way to help connect your practice to the rest of your life, then you should really try For The Love Of Food And Yoga.  Each page will teach you something, whether that's how to better your practice or your plate.
While I tried a lot of recipes, one of my favorites was the elevated eggplant.  It was a fun and healthy twist on traditional eggplant parmesan and just as satisfying.  Lucky for you, Liz and Kristen were more than happy to let me share the recipe with you!  Once you try this one out, make sure you go and pick up your own copy of For The Love Of Food And Yoga!  You can also check out more about Liz and Kristen and their company Live Yum at www.liveyum.com
Elevated Eggplant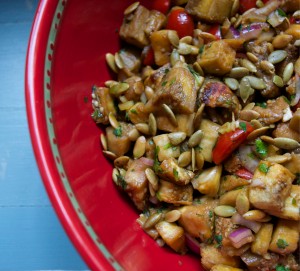 The awareness we develop through our yoga practices encourages us to live more mindfully and spiritually elevated lives. There are not many better teachings than that! This isn't your traditional eggplant recipe (fried and drenched in mozzarella and tomato sauce). Though we love Eggplant Parmesan, we think we've taken our eggplant to the next level. We hope you find it elevated and very enjoyable!
Ingredients
3 large eggplants (peeled and cut into 1-inch squares)

¼ cup olive oil

1 tablespoon pure maple syrup

6 medium garlic cloves (pressed)

½ teaspoon ground toasted coriander

Dash of cayenne pepper

Himalayan salt coarsely ground (to taste)

Pepper coarsely ground (to taste)

1 cup cherry tomatoes (quartered or halved)

¼ cup red onion (chopped)

¼ cup scallions (chopped)

¼ cup flat parsley leaves (chopped)

¼ cup fresh cilantro (chopped)

1 tablespoon orange juice

1 tablespoon lime juice

1 tablespoon agave nectar

2 tablespoon tamari

2 tablespoon olive oil

½ cup pepitas
Preparation
Preheat oven to 400°F.

Sprinkle salt on cubed eggplant and let it sit for at least 10 minutes.

Prepare roasting marinade by combining olive oil, maple syrup, garlic, coriander, cayenne, salt, and pepper.

Rinse and pat eggplant dry and mix with marinade.

Place eggplant mixture on baking sheet in single layer. Roast for 30–40 minutes (tossing halfway through) or until eggplant is fork tender and golden brown. Remove from oven and allow to cool for at least 20 minutes.

Combine tomatoes, onion, scallions, parsley, and cilantro in a large bowl.

Make dressing by stirring together orange juice, lime juice, agave, tamari, and olive oil.

Toast pepitas in a skillet over low-medium heat until fragrant and golden brown. Remove from heat and set aside.

Combine cooled eggplant, tomato mixture, dressing, and toasted pepitas.

Serve slightly warm or at room temperature.
Excerpted with permission from For the Love of Food and Yoga: A Celebration of Mindful Eating and Being by Lix Price-Kellogg & Kristen Taylor. Copyright 2015, Skyhorse Publishing, Inc.