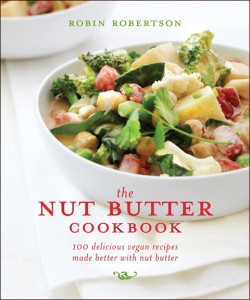 Nut butters are not just for sandwiches. I love swirling almond butter into my oatmeal and adding a few spoonfuls of cashew butter to my stews. I've also sometimes use nut butter in the place of oil in baked goods such as muffins and banana bread. Robin Robertson's new book The Nut Butter Cookbook is chock-full of recipes that use nut butters in creative ways.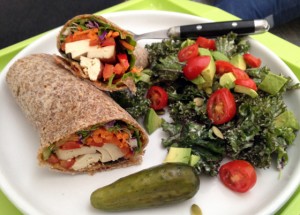 The Nut Butter Cookbook contains recipes for everything from soups and starters to main dishes and desserts. It also contains instructions for making your own nut butters, nut creams and nut cheeses. The Plant-Based Dietitian Julieanna Hever wrote the book's forward, explaining the health benefits of nut butters and dispelling some nutty nutrition myths. (Pun intended.) There are handy charts at the back of the book that contain information about nuts, such as how much protein, calcium, and zinc can be found in a one-ounce serving of almonds, and how many calories are in a serving of peanuts. The book also contains helpful indexes of gluten-free and soy-free recipes, for those with food sensitivities. The recipes in The Nut Butter Cookbook are versatile, so if you want to make a recipe that calls for cashew butter, but all you have on hand is almond butter, you can make a swap and the dish will still taste delicious. Seed butters can be swapped for nut butters for those who may have nut allergies.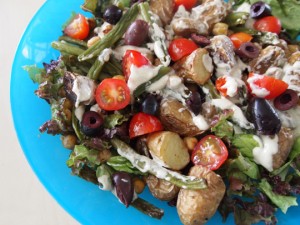 When a new cookbook arrives, I usuall sit down with it and a stack of sticky notes and mark the recipes I want to cook, but I haven't been able to do that with The Nut Butter Cookbook because every single dish looks delicious! Since it's summertime and the weather has been warm, I've been eating quite a lot of salads, and I really love the recipes in the salad chapter. I can't decide which one is my favorite – Could be the Indonesian Gado–Gado which is made with shredded cabbage and carrots and drenched in a spicy peanut sauce? Or maybe the Roasted Niçoise Salad with a creamy Cashew Goddess Dressing that I want to pour over everything? Perhaps it's the classic Cold Noodle Salad with Spicy Peanut Sauce.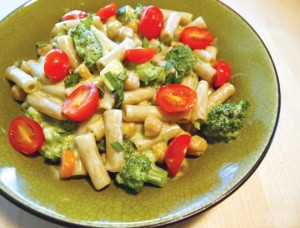 Of course, you'll find far more than just salads in The Nut Butter Cookbook. Thai Tofu Vegetable Wraps have become a lunchtime favorite of mine. Penne Primavera with Avocado Cashew Cream is super quick and easy to make, and it seems like the quintessential warm weather pasta dish. The Cashew Queso Sauce that accompanies the Quinoa and Black Beans dish is so good that I caught my naughty cat Archie on the counter licking the pot. But my favorite recipe in The Nut Butter Cookbook is hands down The Sichuan Stir-Fry with Fiery Peanut Sauce. If I was forced to pick just one meal to eat for the rest of my life, it would that one. It's a mix of tofu and veggies cooked in a deliciously spicy peanut sauce and it's my favorite recipe in the book.
Robin has graciously given us a copy of The Nut Butter Cookbook for one lucky Chic Vegan reader. Follow the instructions below to enter. U.S. residents only, please. Contest ends at midnight eastern time on Sunday, September 7. Good luck!