This simple-to-prepare potage is rich in taste and creamy in texture, without the use of dairy. A quick cashew "cream" (no pre-soaking of the cashews required) adds a touch of elegance, and the coconut milk beverage adds richness and depth to this impressive soup.

Butternut Squash Soup with Quick Cashew "Cream"
Makes 4 to 6 servings / Ease Factor 2  
Ingredients
5½ cups cubed butternut squash, (about 1 medium squash, peeled, seeded and cut in 1½-inch pieces)
1 tablespoon extra-virgin olive oil
1 tablespoon Italian seasoning blend
¼ teaspoon sea salt
2/3 cup raw cashews
2½ cups filtered or spring water, plus more as needed
½ cup unsweetened coconut milk beverage or nondairy milk of your choice
4 to 6 basil leaves, for garnish (optional)
Preparation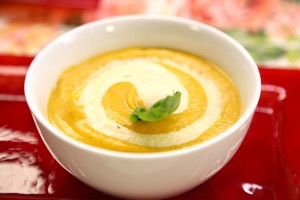 Preheat the oven to 400 degrees F. Line a large, rimmed baking sheet with unbleached parchment paper.
Put the cubed squash, olive oil and Italian seasoning in a large bowl and toss gently until thoroughly coated. Arrange the squash in a single layer on the prepared pan. Bake for 50 minutes, stirring once or twice, until the squash is soft and slightly golden. Put the pan on a wire rack and sprinkle with the sea salt. Let the squash cool for 25 to 30 minutes (see note).
Meanwhile, put the cashews and 1⁄2 cup water in a high-performance blending appliance and process until smooth and creamy. Transfer the cashew "cream" to a small bowl, leaving about 2 heaping tablespoons in the blender container. Add the cooled squash, coconut milk and 2 cups water to the cashew "cream" in the blender container and process until smooth, adding more water, about 1⁄4 cup at a time, as needed, to achieve the desired consistency.
Pour the soup into a medium-sized saucepan, cover and cook over medium-low heat for about 15 minutes, stirring often, until heated through. To serve, ladle the soup into bowls. Using a small spoon, swirl about 1 tablespoon of the cashew "cream" into the top of each serving, in a pretty pattern. Garnish with a basil leaf (optional). Serve piping hot (see notes).
Chef's Notes
You may roast the squash up to 24 hours ahead of time. After cooling, transfer to an airtight container and refrigerate until use.
This soup may be made up to 24 hours ahead of time. If making in advance, let the soup cool after blending, pour the cooled soup into an airtight container and refrigerate. To reheat the soup, pour it into a pot. If the soup seems too thick, add a little more water to achieve the desired consistency. Cook for about 15 minutes over medium-low heat, stirring often, until heated through.
The cashew cream may be made up to 24 hours ahead of time and stored in the refrigerator until use.
Recipe from Laura Theodore's Vegan-Ease: An Easy Guide to Enjoying a Plant-Based Diet © Laura Theodore (Jazzy Vegetarian, LLC 2015), reprinted by permission. Photo by David Kaplan