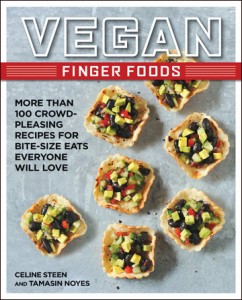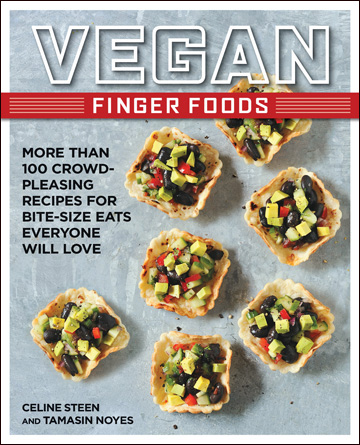 Finger foods are, well, food you eat with your fingers. Sometimes called "tapas" or "small plates," and they can even be appetizers. The recipes in Vegan Finger Foods by Celine Steen and Tamasin Noyes are perfect for serving at parties, taking with you to potlucks, or to eat yourself as a light meal or snack.
Vegan Finger Foods explores the many types of bite-size munchies – from elegant to casual and savory to sweet. The book's recipes are divided into 4 chapters: Veggie-Centric Finger Feasts, Stuffed and Dipped, Bread-Based Bites, and Sweet Little Somethings. Veggie-Centric Finger Feasts is a chapter where vegetables are the main star. There you'll find recipes for such veggie-based treats as Rainbow Root Veggie Chips, Marinated Mushrooms, and Kale Cucumber Cups. In Stuffed and Dipped, you find recipes for all kinds of snacks that are stuffed with a tasty filling as well as delicious dips and sauces. Some standouts in this chapter are the Baked Mini Frittatas, Baked Buffalo Tofu Bites, and the Nacho Sauce Dip. The Bread-Based Bites chapter is full of recipes for crackers, breads, scones, and sandwiches. In Sweet Little Somethings, you'll find lots of recipes for sweet treats, such as Better Buckeyes, Vanilla Cream Tartlets, and Brownie Nut Butter Cups.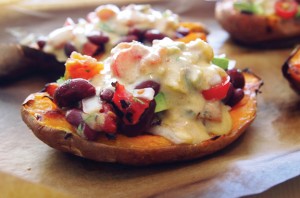 Vegan Finger Foods arrived in April, shortly after I had major surgery, and I couldn't quite make it into the kitchen to start cooking yet. I had originally planned on making some of the dishes in Vegan Finger Foods for a little birthday party I had in June, but I still didn't really have the energy for it, so I set it aside for when I was feeling better. Once I started to feel like my old self again, I decided to tackle the book, and it's a good thing I waited, because I just couldn't stop myself from cooking more! Everything I made was eaten at home for dinner rather than served as party fare, and I discovered that the book's recipes have a great amount of versatility to them. Rather than making The Jamaican Jerk Tempeh Skewers on toothpicks and serving them as an appetizer, I made them on large bamboo sticks and had them as the main dish for a dinner outside. Nacho Potato Skins are usually served as a snack or party dish, but I swapped the russet potatoes for sweet potatoes and served them for dinner, alongside a large salad. I made the mayo-based Pantry Raid Ranch Dip and used it as a sandwich spread rather than a dip.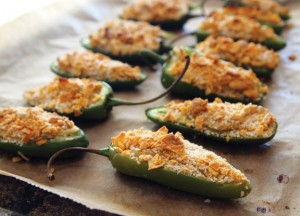 Two of my favorite recipes in Vegan Finger Foods were the Baked Jalapeños and Corn Fritters. Back in my cheese-eating vegetarian days, I probably ate my body weight in jalapeño poppers, but I haven't had them in at least 13 years now. In this much healthier recipe, jalapeños are filled with a rich "cheese" made with cashews and white beans, and coated in a crunchy "batter" made with cornflakes and panko breadcrumbs. The Corn Fritters come together so quickly and easily that it would have been silly of me not to make them. Instead of making 16 small fritters as the recipe suggests, I made 6 larger ones, and I had to stop myself from eating them straight out of the pan.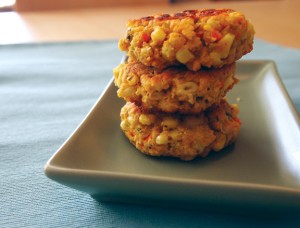 I know I say this often when reviewing a book, but there really is something for everyone in Vegan Finger Foods. Whether you're planning a big bash and are looking for delicious finger foods to create a buffet with, hosting a tapas dinner party, or are just looking for some tasty munchies to enjoy by yourself, you'll find what you're looking for here. The book is also full of Celine Steen's gorgeous photos, which will have everyone drooling.
You're in luck because we have a copy of Vegan Finger Foods for one lucky Chic Vegan reader. Follow the instructions below to enter. U.S. residents only, please. Contest ends at midnight eastern time on Sunday, August 10th. Good luck!
a Rafflecopter giveaway