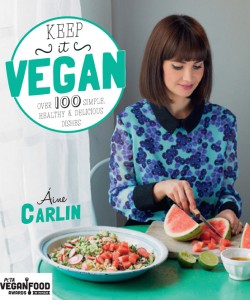 I hadn't heard of Áine Carlin before I was asked if I wanted to review her cookbook, but now that I've spent some time cooking with her new book Keep It Vegan: Over 100 Simple, Healthy and Delicious Dishes, I wish I had gotten to know her sooner! If you haven't heard of her either, let me introduce you: Áine Carlin is an Irish-born actress-turned-writer. She was once a dedicated meat and dairy lover, but she went vegan 4 years ago and hasn't looked back since. She blogs about food, fashion and life at PeaSoupEats.com.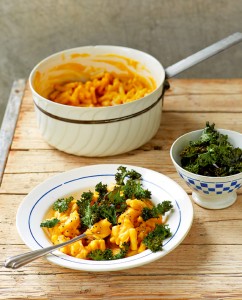 Keep It Vegan full of easy-to-make recipes that contain easy-to-find ingredients, but that doesn't mean the dishes lack flavor. Everything I've made has been delicious! The dishes are recognizable, so there's nothing that a new vegan or omnivore would find weird, but the recipes are all made with a creative flair. The first recipe I tried was the Savory Pudla Pancake, which was inspired by Indian cuisine. It's more of a chickpea omelet than a pancake, and it's perfect for a protein-filled breakfast. Other creative dishes include Sweet Potato and Kiwi Soup, Hole Mole Black Bean Chili, Santorini-Syle Spaghetti with Lemon, Capers and Tomatoes, and the Stuffed Mushroom Burgers below. Chapters include Breakfast, Brunch & More, Midday Meals and Simple Suppers, Something Special, Sides and Sauces, and Sweet Treats.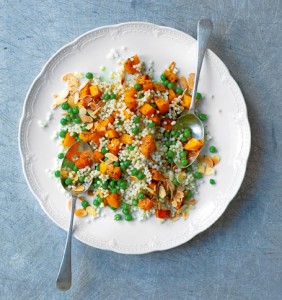 Keep It Vegan is perfect for those who are trying to eat less meat, newbies who want to get started on their vegan journey, and even veteran vegans who want to add a some more dishes into the repertoires. It's even perfect for rainy afternoon reading, as it's full of mouth-watering photography, super-cute illustrations, and interesting tidbits about the dishes.
We have a copy of Keep It Vegan for one lucky Chic Vegan reader. Be sure to check out the giveaway after the recipe.
Stuffed mushroom burgers and dijon-coated potato wedges
serves 4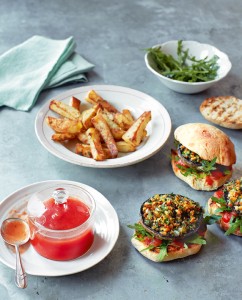 There's no reason to do without burger and fries when meat is no longer on the menu. By stuffing the already "meaty" portobello mushrooms, you create a dense texture that would fool anyone into thinking there's more
than just veggies inside that bun—and when I first turned vegan, that was of paramount importance. I was never a fully fledged fast-food aficionado, but I enjoyed the occasional blowout. Now, however, I can indulge my greasy whims from the comfort of my home and without harming any unsuspecting cows in the process! It's diner food without the moral, calorific, and overly-processed dilemma, and who could ask for more than that?
Ingredients
For the ketchup
4 tomatoes, halved
salt and freshly ground
black pepper
1/2 teaspoon ground allspice
1 tablespoon balsamic vinegar
1 teaspoon brown sugar
1 tablespoon olive oil
For the wedges
4 large potatoes, washed
2 teaspoons Dijon mustard
2 tablespoons oil
1 teaspoon cider vinegar
1 sprig rosemary, leaves chopped
For the mushroom burgers
1 tablespoon olive oil, plus extra
for greasing
4 tablespoons vegan butter or margarine
1/2 onion, finely diced
4 portobello mushrooms
1 garlic clove, finely chopped
1 sprig thyme, leaves chopped
1 cup white bread crumbs
1 tablespoon red wine vinegar
3 tablespoons pine nuts, toasted
1/4 cup fresh flat-leaf parsley, chopped
4 ciabatta rolls, halved
arugula leaves, to serve
Method
Preheat the oven to 400˚F.
Place the tomatoes on a baking sheet. Sprinkle with 1 teaspoon each of salt and pepper, the allspice, balsamic vinegar, brown sugar, and oil and roast for 1 hour. Remove from the oven and set aside to cool before pressing through a sieve. Season and chill until needed—the ketchup will keep for two days.
Slice the potatoes into thick wedges and place in a roasting pan. Whisk together the Dijon mustard, oil, cider vinegar, rosemary, 1 teaspoon salt, and some freshly ground black pepper. Pour the mixture over the wedges and toss to coat thoroughly. Roast for 1 hour, shaking the pan occasionally so the wedges don't stick. Season again when they are removed from the oven.
For the mushroom burger stuffing, heat the oil and half of the vegan butter/ margarine in a medium-sized, non-stick, heavy-bottomed frying pan and add the onion. Season and sauté gently until it begins to soften. Remove the stalks from the portobello mushrooms, finely chop, and add to the pan. Sweat the onion and mushroom stalks for a minute or two before adding the garlic and thyme. Season generously and cook for a few more minutes.
Add the bread crumbs to the pan along with the remaining vegan butter/margarine and red wine vinegar. Let the bread crumbs fry for a few minutes until golden before finally adding the toasted pine nuts and freshly chopped parsley.
Lightly grease a baking sheet. Rub the mushrooms with oil and season the outsides with salt and pepper. Divide the bread crumb mixture between them and pack it in tightly using the back of a spoon or your fingers. Place on the baking sheet and bake in the oven with the wedges for the last 30 minutes of their cooking time.
Spread a little ketchup in each roll and serve the burgers in them with a handful of arugula leaves and the potato wedges on the side.
We have a copy of Keep it Vegan for one lucky winner. Follow the instructions below to enter. Contest ends at midnight on January 27th. US residents only, please. Good luck!