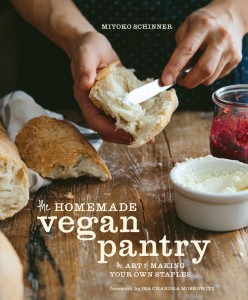 The Homemade Vegan Pantry by Miyoko Schinner is a guide to creating vegan versions of staple ingredients to stock the fridge and pantry–from dairy and meat substitutes such as vegan yogurt, butter, mayo, bacon, and cheese, to mustards, dressings, pancake mix, crackers, pasta sauces, cookies, and more.
Kitchen crafters know the pleasure of making their own staples and specialty foods, whether it's cultured sour cream or a stellar soup stock. It's a fresher, healthier, more natural approach to eating and living. Now vegans who are sick of buying over-processed, over-packaged products can finally join the homemade revolution. The Homemade Vegan Pantry celebrates beautiful, handcrafted foods that don't take a ton of time, from ice cream and pizza dough, to granola and breakfast sausage. Miyoko guides readers through the techniques for making French-style buttercreams, roasted tomatoes, and pasta without special equipment. Her easy methods make "slow food" fast, and full of flavor. This book raises the bar on plant-based cuisine, not only for vegans and vegetarians, but also for the growing number of people who are looking to eat lighter and healthier, and anyone interested in a handcrafted approach to food.

ale and brown sugar mustard
With a hint of caramel sweetness and bitter notes from the ale, this complex mustard will elevate your burgers, hot dogs, and sausages.
Ingredients
1/2 cup brown mustard seeds
1/2 cup ale
1/2 cup water
2 to 3 tablespoons brown sugar or coconut sugar
1 teaspoon sea salt
1/4 cup apple cider vinegar
Preparation
Combine all of the ingredients in a jar. You can use more or less sugar depending on the sweetness desired (both brown sugar and coconut sugar add a caramel note, but brown sugar is sweeter). Let it macerate for 1 or 2 days. Place in a blender and puree until it is as smooth as you like. Pack it in a jar and store at room temperature for 2 to 4 weeks until it's mellowed to your liking. Then move it to the fridge, where it will keep for 1 year.
Makes 1 3/4 cups
Customize Your Mustard
All those little jars of expensive mustards can be yours for the making in just a few short minutes. The variations are endless—try sweet honey (vegan honey, of course!) mustard or orange ginger mustard or get creative—with mustard, anything goes.
Mustard is basically mustard powder or seeds mixed with a liquid. The general rules for mustard making are these:
Use a 2:1 or 2 1/2:1 ratio of liquid to seeds. Be creative with the liquid used; plain water is fine, but how about wine, beer, vinegar, juice, or kombucha? Using flavors such as citrus zest, sweeteners, herbs, and spices will add character. As the mixture sits, it will thicken.
To expedite the mellowing process and make for easier grinding, soak the seeds in the liquids and seasonings for a couple of days.
Toss it all in a blender and puree until it's as smooth as you like.
Pack it into jars and store at room temperature for 2 to 3 weeks, until it mellows. Refrigeration stops the mellowing process and it will stay forever zingy, so don't chill it until it's ready! Then make a great sandwich.
Reprinted from THE HOMEMADE VEGAN PANTRY Copyright © 2015 by Miyoko Schinner. Published by Ten Speed Press, an imprint of Penguin Random House LLC.