You might expect an upscale town in California to be very vegan-friendly. And Healdsburg is. But only if you ask. The focus here is more on taste, food and wine than on worrying about the welfare of our furry and feathered friends. I was surprised to not see more vegan options on menus. However, servers assured me that they do get plenty of vegans, and chefs were prepared with delicious vegan dishes they could make at a moment's notice. It's a little frustrating – I mean, why don't they just print a vegan choice on the menu? – but don't let a fear of starving dissuade you from visiting Sonoma County's wine country. Here are places you can go to get good vegan food.
SHED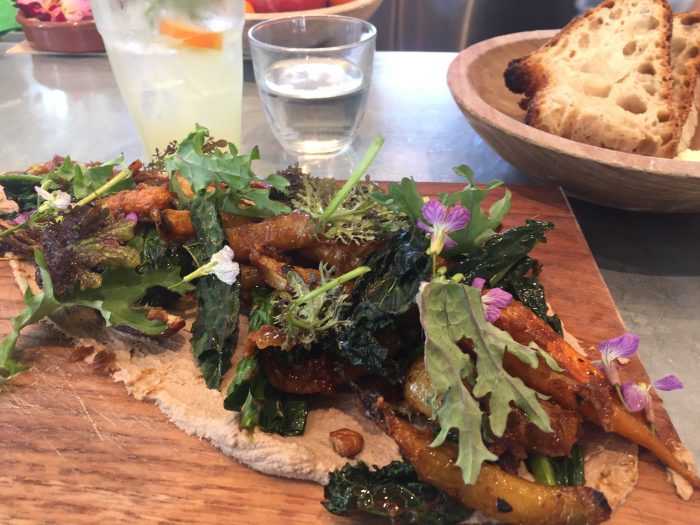 My first stop in Healdsburg was lunch at this huge, light-filled farm store. Sit at the café, get hummus to go, buy some top-end kitchen gear or sign up for seed saving or natural dye classes. I got an exquisite carrot and kale salad, fresh bread and a pomegranate shrub. SHED was definitely a good start to my stay.
Spoonbar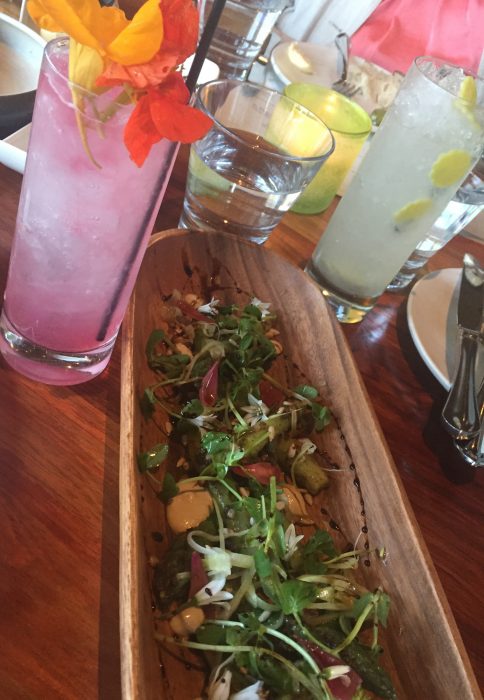 This stylish restaurant is in a LEED gold certified building with a succulent-covered eco roof. Spoonbar's chefs can make you a delicious vegan dinner in a chef's surprise kind of way. Mine entailed farro and cauliflower, and a vegan preparation of the asparagus appetizer that's on the menu. Don't miss the bread and olives. The bartender dreams up creative cocktails and mocktails. I had a ginger/pomegranate lemonade.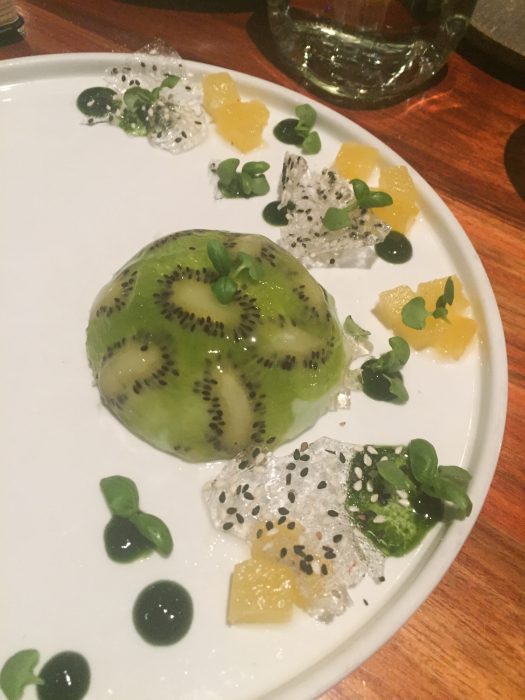 Taste of Tea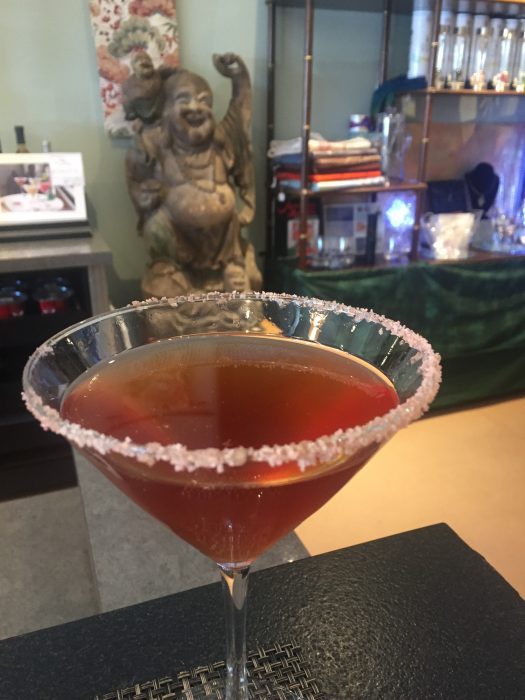 Taste of Tea is the place for all your specialty tea needs, from pricy pay-by-the-ounce loose teas to a bar serving non-alcoholic marteanis served in a martini glass. I tried the Tiger Eye, made from cold drip honeybush stirred with Sonoma white ginger syrup with a rose sugar rim. You can get tea-based spa treatments, or sit down in the café area for a simple Japanese meal at the ramen-focused restaurant.
Barn Diva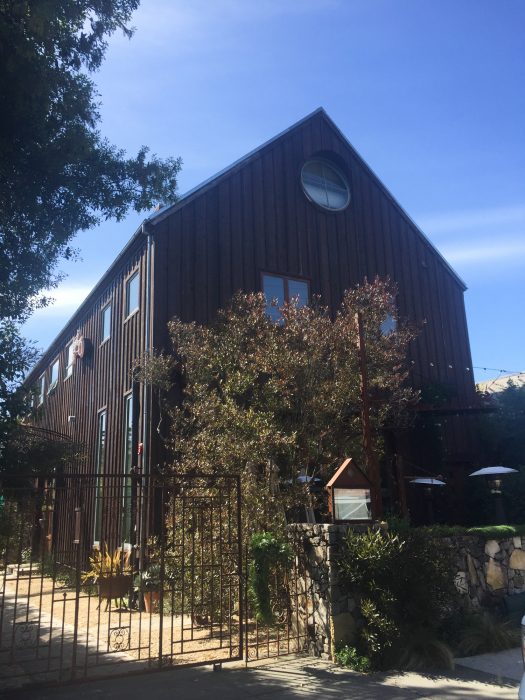 Just look for a cool old barn a couple of blocks off Healdsburg's main plaza and you'll know you've arrived at Barn Diva. For vegans, it's another chef's surprise kind of place. In this case, an especially good surprise – a bunch of exquisitely cooked vegetables served on a board with a little dish of sticky rice. My favorite—vegetables! Good bread, too. Bread must be a specialty of Healdsburg.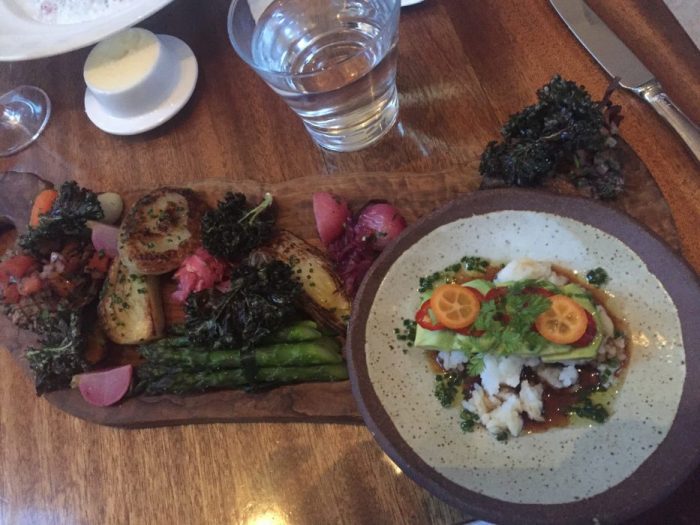 Big John's Market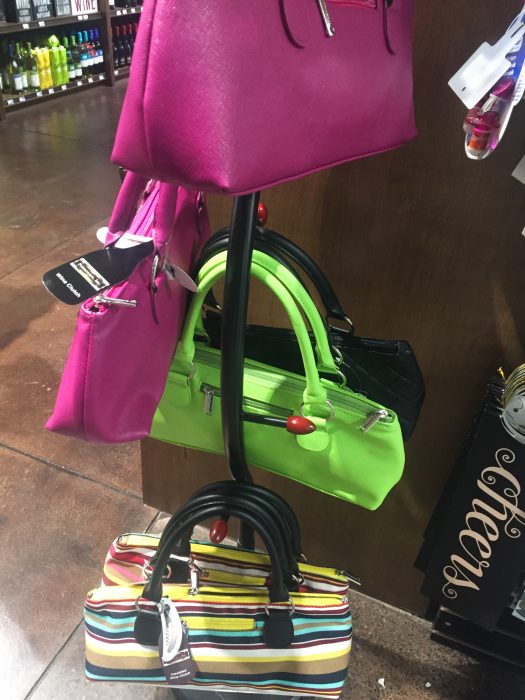 This independent grocery store first opened in 1994 and is the best place for a casual lunch with a really big variety at upscale supermarket prices. Lots of the produce comes from the immediate vicinity. Tons of grab and go options. I got veg sushi with brown rice. And yes, Big John's has an in-store sushi chef. Choose your lunch from the big salad bar, burrito bar or wood-fired pizza oven, then sit outside to eat. Trigger warning: They have an extensive sausage selection.
Flying Goat Coffee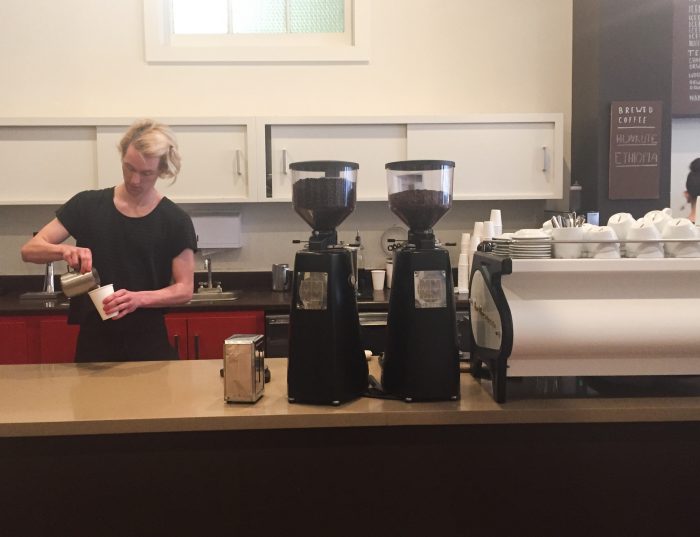 One person I met insisted that people from all over the country buy their coffee from Flying Goat. And it could be true – they do sell online. I visited twice while I was in Healdsburg, once for a soy cappuccino and once for an Aztec mocha with almond milk. Flying Goat also sells a few vegan pastries and cookies. I got a piece of orange cake there, which I recommend.
Bear Republic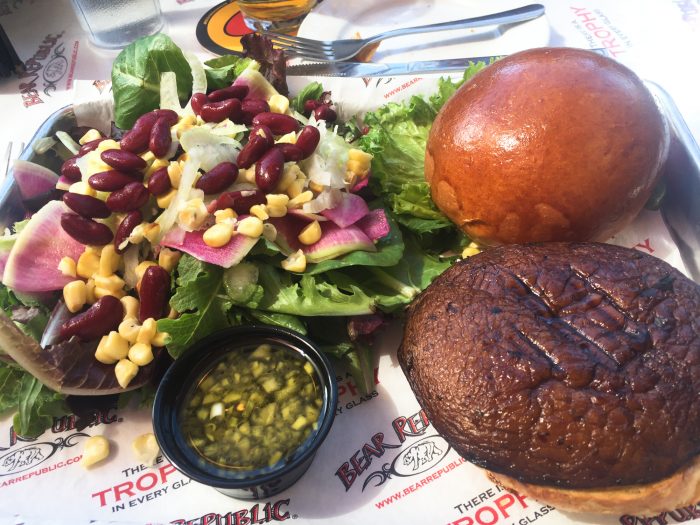 This brewery and brewpub has a huge deck overlooking Foss Creek, which makes it a nice setting for lunch on a sunny day. Bear Republic's veggie burger is made with egg, so vegetarians might like it but vegans won't. Instead, order the Portobello sandwich sans dairy. My side salad had an especially fresh lettuce mix.