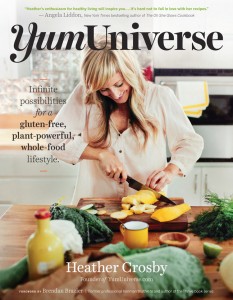 This is gorgeous!  That's the first thing I thought when I opened Yum Universe:  Infinite  Possibilities for a Gluten-Free, Plant-Powerful, Whole Food Lifestyle, by blogger Heather Crosby.  It really is a beautiful book.  The front of the book, a picture of the lovely author happily chopping vegetables, is welcoming and friendly.  Flipping through the book, you see colors everywhere.  It's a wonderful layout and it drew me right in.  I actually spent a lot of time just looking at pictures before I started reading.
Looking at all of the food porn in this book might make you think it's a cookbook.  And half of it is.  But the other half is a real book that is well worth the read.  After giving us some background on her journey to health, Heather covers the Whys and Hows of living a plant-powerful lifestyle.  A lot of information is covered in the Why.  If you're thinking of adding more plants to your diet, this section is worth the read.  But don't skip this part if you're already plant-powerful – you'll miss a couple of good recipes, including Almond Crunch Kale Chips!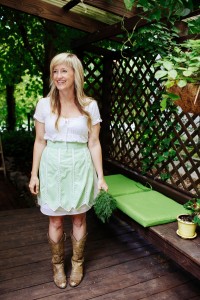 I loved the How section.  Again, not everything is new if you've been at this for a while, but Heather upped the ante a bit.  There's a section on planning ahead, which includes on-the-go breakfast and salad ideas.  She also covers shopping, kitchen tools and basic techniques.  In my favorite part, she addressed food storage.  Here she includes just about every item you might include in your plant-powerful pantry, how to store it and for how long.  She also includes storage of fruits and vegetables and items that need cold storage.  I've been cooking for years, but I got some great tips from this section of the book.
And there are bonus goodies for book owners!  Extra on-line goodies, such as recipes, videos and other tips not found in the book.  Use your code and go to yumuniverse.com to find the link to extras.
On to the recipes.  Heather includes a good variety of recipes, including breakfasts, main dishes, soups (see recipe below), sides, beverages, snacks and desserts.  She also provides great variations for sandwiches, cashew cheese spreads and chickpea flatbread, among others.  The recipes are gluten-free, and most of the ingredients can be found pretty much anywhere.  Note that she does use honey in some of the recipes.  Those of us who don't go there can easily find a substitute.
Roasted Red Pepper & Tomato Bisque
Ingredients:
2 red bell peppers, seeds and ribs removed, quartered
2 large tomatoes, quartered
½ cup onion, quartered
1–1 ½ teaspoons sea salt or more to taste
Pinch of black pepper, plus more to taste
2 teaspoons rosemary leaves, chopped
4 cloves garlic, sliced in half
1 ¼ cups veggie stock
1⁄3 cup cashews, soaked
 Steps:
Preheat oven to 325°F and grease a large baking dish with oil, or line with parchment paper. Place red bell peppers and tomatoes face down in baking dish with onion, sprinkle with a pinch of salt and pepper, and roast for 25 minutes.
Remove baking dish and add rosemary and garlic and roast another 7 minutes.
Transfer all ingredients to the blender and purée until smooth. Season with salt and additional pepper to taste. Serve warm, so heat up on the range if you need to.
You really can't go wrong with this book.  It's fun to read, it's beautiful and it's informative.   It would make a great gift, even for yourself!