Finding a quality, yummy-smelling, skin-soothing, cruelty-free soap, typically causes some frustration for us humane bathers. Luckily, more vegan soaps are becoming available via the internet and health food stores.  Here are some fantastic soaps that I have – or would love to – suds up with.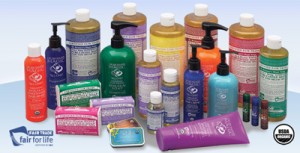 Old Reliable: Dr. Bronner's Magic Soaps. I have always liked the tingly feelings this soap leaves behind. A hippie staple, Dr. Bronners soaps can be used for anything you can think of. You can clean your teeth, floor, clothes, and car all with one bottle. Sound scary? It hardly is.  This "Magic" soap only contains organic, and fair trade oils. For their 60th anniversary Dr. Bronner's released a new line of soap that is twice as fantastic as its predecessor.  This Shikakai soap smells sugary (tastes sugary too…whoops) and slightly exfoliates as it cleans. If you have never had the pleasure of trying out any of Dr. Bronner's Magic Soaps, please do so, STAT!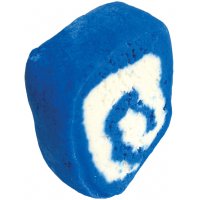 LUSH: Slightly more posh than Magic Soap, but totally worth the splurge.  While not all of LUSH's soap is vegan, 75% of their  products are, and are clearly marked on the website.  If you are lucky enough to have a LUSH store near you, the associates are well versed on their vegan options and will be more than happy to help you.  The reason I love LUSH so much is because all of their products look so…..yummy.  They make bathtime a whole new experience with bath bombs, bubble bars, bath melts, Jellies, emotibombs and all kinds of other fun shower paraphernalia.

Strawberry Hedgehog: Aromatherapy at its finest. Strawberry Hedgehog handmade soaps wash clean away and are 100% natural. Not to mention they smell amazing.  Since this company is a small operation, custom soaps are available upon request. (Bonus: check out the recipe for Dark Chocolate Almond Truffles on the Strawberry Hedgehog blog! Heaven!)
Other suds-worthy soaps include:
Tami's Soapworks
Oracle Organics
Alba Organics
Pink Parchment Soaps -on Etsy
Wanna make your own organic vegan soap? Learn how!