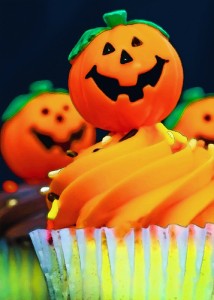 Halloween is just around the corner, and what are you going to do to avoid being the weird lady that gives out apples?  Are you the house most likely to be skipped? Here are some yummy vegan-friendly treats to help you (and everyone else) enjoy this haunted holiday a little more.
*These are of course, for the sugar loving herbivores.
For the Trick-or-treaters (and you later):
Candy
Airheads taffy
Atkins peanut butter bars
Blow Pops
Brach's Cinnamon Hard Candy
Charms lollipops
Chick-o-Sticks
Cracker Jack
Cry Babies
Dem Bones
Dots
Dum-Dums
Fireballs
Goldenberg's Peanut Chews
Hubba Bubba bubblegum
Jolly Ranchers (lollipops and hard candy)
Jujubees
Jujyfruits
Lemonheads
Mambas
Mary Janes (regular and peanut butter kisses)
Now and Later
Pez
Ring Pop lollipops
Smarties (U.S. Brand)
Sour Patch Kids
Super Bubble
Swedish Fish
Sweet Tarts
Tropical Source mini chocolate bags
Twizzlers
Zotz
Snacks

Bean dip (make sure it's lard-free)
Cracker Jack
Fritos
Lance's Toasty Crackers
Lay's Stax
Lay's WOW! potato chips
Microwave popcorn (minus the real butter flavor)
Munchos
Nutter Butters
Oreos
Peanuts, sunflower seeds, almonds, cashews, and Pistachios
Pretzels
Salsa
Tostitos
Trail mix
Triscuits
Wheat Thins
Try to steer clear of any Mars products.
Looking for something more… sophisticated? How about CUPCAKES?? Check out this halloween cupcake recipe at Crafty Crafty.  Or these cupcakes with fancy frosting.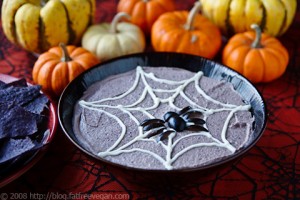 Or how about this scrumptious recipe that I make about 10 times throughout the year. My ultimate vegan dessert: pumpkin cheesecake!
Tis the season for sweets and indulgence! Have fun and be safe this Halloween!