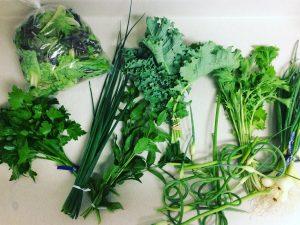 Finding ourselves in a rut and buying the same veggies over and over again, week after week, my partner and I decided to try purchasing a CSA summer share this year. The promise of fresh, organic, seasonal vegetables was alluring from a health perspective, but the slightly scary/mostly exciting thought of creating dishes based on what was in our share each week was an added bonus – and the best kind of challenge.
When I arrived to pick up our first share I was greeted by a friendly staff member and pointed to the beautiful chalkboard outlining the week's haul. I was immediately thankful we opted for the half share, because who can eat a pound of garlic scapes in one week?! The selection was neatly organized on tabletops, with tiny chalkboards labeling all the greenery. Staff was available to answer any questions, such as "What is mizuna?" (The answer? A tender, slightly spicy Asian green).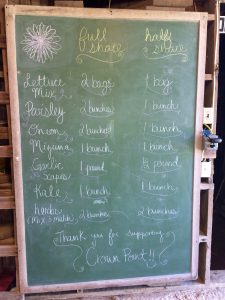 Speaking of greens, the color palette of our share was brightly, and exclusively, verdant – handfuls of fresh herbs, kale, onions, and a generous bag of lettuce mix have recharged our healthy eating and sparked inspiration for new dishes. Garlic scapes have become a strong, flavorful pesto and the herbs have seasoned a creamy and delicious cashew ranch dressing. As summer unfolds, more colors will pop up in our shares, but this first pick-up showcased the best, most simple and vibrant samples of nature's late spring bounty.
Photos reposted with permission from The Offbeat Herbivore