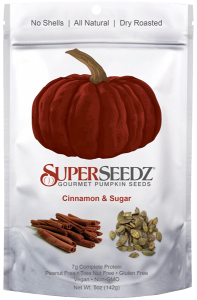 As you may have noticed by now, I love snacks. I love food in general. But, snacks are wonderful because they are on-the-go mainly, easy to eat without a mess, and because they can and should be fresh. It is like having a fiesta in the middle of the day (or morning or night)
SuperSeedz is a gourmet pumpkin seeds company that offers snacks that are nutritious, with 7-8 protein per ounce, iron, zinc, and cholesterol free. It comes with a variety of flavors. They have no shells, are roasted, and all natural. Before I begin, I want to say that the flavors are lovely and I tried to list them in terms of awesomeness, but it was difficult to do so.
Actually, before I begin with the flavors in order of their greatness, I have to mention one flavor that I tasted and needed water immediately: Super Spicy. It made me feel like a fire breathing dragon and cleared all my sinuses, as pluses. But, man, oh man, it is spicy. The company is not joking. It tasted like all the spicy peppers in the world ganged up on my mouth. My sisters loved it, so did my mom. So, I'm thinking if you are not a fan of spicy foods, this is just not the flavor for you.
We also got the Somewhat Spicy flavor. It tastes like garlic and some peppers. See, this is a flavor that is kind of spicy but has other flavors infused with it; and thus it creates a fun flavor to snack on.
Next, we have Maple Sugar and Sea Salt, which was a mix of sweet and a bit of salt that I loved it immediately. It is very refreshing. The same can be said about Cinnamon and Sugar, which tasted so lovely and comforting to the stomach. Both flavors are delightful and perfect for sugar tooth people like me.  Coco Joe was a wonderful chocolate flavor, but it was somewhat bitter tasting. Overall, though, it was yummy.
And if all of this isn't appealing to you and you just want regular pumpkin seeds, we have the Sea Salt flavor, which is plain, salted pumpkin seeds.
So, the flavors are good, the nutritional values are great, and they are all vegan. The products are still pretty good and worth checking out. Enjoy!