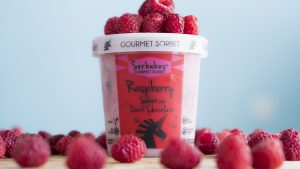 Summertime is definitely my favorite season of the year.  I love baseball games, farmer's markets, early sunrises, and hanging the sheets out to dry.
And ice cream.  The vegan version, of course!
I have to say "thank you" to all of the geniuses who've made it easier for vegans to indulge in a frozen treat.  Once a upon a time – and a time that wasn't so long ago – we were basically limited to soy-based ice cream.  Now, we can easily find products made out of cashews, almonds and coconut.  I've tried a lot of these.  I have my favorites, and I recently added a new favorite:  Sorbabes.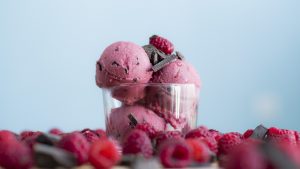 Sorbet, as we know, can be one of those accidentally-vegan products.  In fact, it's usually the only vegan dessert option at a typical restaurant.  But the ladies at Sorbabes – Nicole Cardone and Deborah Gorman – have successfully brought this simple, water-based, dessert up a few (several) notches.  Sorbabes is the first and only sorbet to mix in chunky gourmet toppings.  Think Ben & Jerry's with sass.
Besides being gluten-free, non-GMO and – of course – vegan, these yummy concoctions are sweetened with natural cane sugars and come in BPA-free containers.   The nutty-flavored options (Peanut Banana Sorbet with Chocolate Fudge, Pistachio Sorbet with Sea Salt Caramel, Coffee Almond Sorbet with Chocolate Bark, and Double Chocolate Hazelnut) contain the whole nut, which adds a level of creaminess you wouldn't expect in a sorbet.  If you didn't know better, you might think you were eating ice cream.  The fruity flavors include Lemon Sorbet with Candied Zest (fresh-squeezed lemon, by the way), Juicy Orange Passionfruit Sorbet with Lychees, and Raspberry Sorbet with Dark Chocolate.
Hungry yet?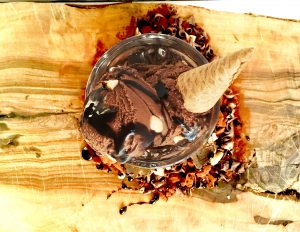 We had a tasting party at our house.  All flavors passed the test.  My husband used the words "fresh" and "intense," which I think are appropriate.  You knew what you were tasting.  Tangy lemons, nutty pistachios, and true chocolate.  I could have told you my favorite before I even tasted anything, but I tried to be impartial.  No luck.  The Raspberry Sorbet with Dark Chocolate was just as good as I expected.  My son, who's nine but not a huge chocolate fan, LOVED the Double Chocolate Hazelnut.  That's saying something.
It appears you can only buy Sorbabes on the east cost at this point, primarily around New York, but also through the Mid-Atlantic and New England.  If you live elsewhere, you can order online.
I'm hoping we'll see more flavors of Sorbabes.  Call me boring, but I'll cast my vote for good old-fashioned vanilla.  They can surprise me with the mix-ins, but I'm sure it will taste amazing.
Is it a good idea to eat an entire container of Sorbabes in one sitting?  No.  But it's summer.  As the lovely founders say, "indulge responsibly."  But do indulge.  You won't be sorry!