Snack time.  Some people snack – or graze – all day.  Others never eat between meals.  Snacks can be big or small, healthy or unhealthy.  Vegan or not.
I'm not a big snacker, but I like to have things available for those days when I am not going to get a real meal.  If it fits in my desk or my purse, I can carry it with me and not spend time and energy finding something to hold me over.  In case you haven't noticed, most vending machines don't cater to vegans, so we need to be prepared.
Crunchy? Creamy? Fruity? Decadent?  What's your snack preference?  We have two options for you.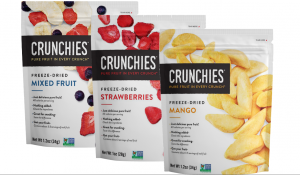 Crunchies
Crunchies are all-natural freeze-dried fruit and vegetable snacks.  With no added sugar, and no artificial flavors or coloring, Crunchies are non-GMO, gluten free, vegan, kosher, and halal certified.  Each serving has about 40 calories, and you can buy them in resealable pouches or single-serve bags.
Crunchies come in 8 flavors:  Pineapple, Mango, Beets, Cinnamon-Apple, Mixed Fruit, Strawberry-Banana, Strawberry and Blueberry.  I'm partial to berries myself, but there's enough variety in the flavors to satisfy most taste preferences.
My 10-year-old is always game to try things.  He likes the novelty of freeze-dried fruit, but he still sticks with his favorite flavors.  He picked out the apples and strawberries from the Mixed Fruit bag and left the rest behind.  That's OK.  I don't stress about it, as long as he is getting some fruit.  And I've found that I can be creative with the leftovers – sprinkled on cereal or salads or smoothies, adding the beets to sandwiches, or crushed up and used in baking.
This is really cool.  Crunchies is the only U.S. consumer freeze-dry brand that is vertically integrated farm to fork.  If you want to know where your snack originated, simply follow this link!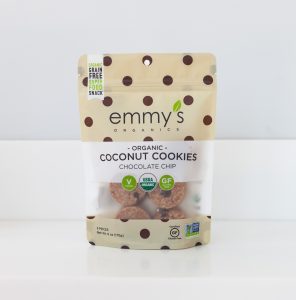 Emmy's Organics
On to the creamy and decadent.  Emmy's Organics, based in Ithaca, New York, makes super cute cookies that taste seriously good.  These coconut treats are vegan, gluten-free, and soy-free.  They are made with zero artificial flavors or coloring and contain 6g sugar or less per serving.
Emmy's flavors include Chocolate Chip, Dark Cacao, Peanut Butter, Raspberry, Lemon Ginger and Vanilla Bean.  If you don't like coconut, these aren't for you (you don't know what you are missing, though!).  I love coconut and I love these cookies.  All of the flavors I tried were good, but my heart – as usual – belongs to vanilla bean.  The ingredients in this flavor are simple:
organic coconut, organic agave syrup, organic almond flour, organic coconut oil, organic vanilla extract (water, alcohol [35%], organic vanilla bean extractives), organic vanilla bean powder, himalayan salt     
Not only are the cookies good, but they are made in a wind and solar-powered building and the company carries a B Corp. Certification.  You can find Emmy's cookies nationwide or buy them online in various size packages.  Eat them straight out of the bag, or crumble one on top of your smoothie or overnight oats.  I'm sure you'll figure out something creative.
What's your favorite food for snack time?