They are cute and fuzzy and at first may seem like the perfect Easter gift for a child, but all too often the ducklings, chicks and bunnies that are cherished on Easter day end up abandoned and left to suffer alone when they grow up and the reality of their ongoing care sets in. This spring, to help prevent the suffering of discarded animals and overcrowding at local shelters, Farm Sanctuary, the nation's leading farm animal protection organization, is encouraging parents to resist buying baby animals from pet stores and to help promote a new compassionate holiday tradition instead by sponsoring an animal in need.
Every spring, Farm Sanctuary's bi-coastal shelters in upstate New York and Northern California experience a dramatic increase in the number of calls they receive about unwanted ducks, chickens and rabbits that were given to children as "Easter gifts." "These are living, feeling animals, not holiday trinkets, yet many people impulsively purchase them without considering whether or not they are fully prepared to take on the responsibility of an animal that will require daily care for many years to come," said Farm Sanctuary's National Shelter Director Susie Coston. "When that reality sets in, the animals that aren't abandoned at shelters usually end up being dumped outdoors where they will most likely starve to death, or they are relegated to cramped backyard hutches and cages, where they will spend the remaining years of their life lonely and neglected. We urge parents to show their children that grown up animals deserve love too by sponsoring an animal in need for their children this Easter instead."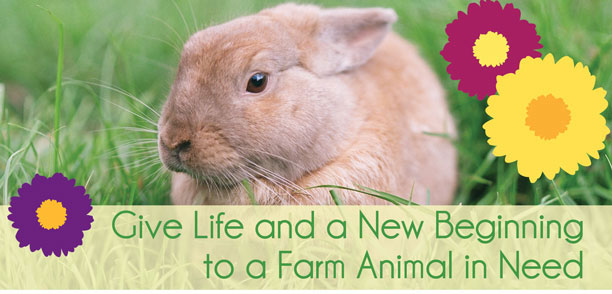 The animal residents at Farm Sanctuary's shelters, many of whom were rescued after being given as "Easter gifts," depend on adoptive "parents" to provide them with healthy food, a safe habitat, individualized attention and veterinary care. Through the nonprofit organization's Adopt-A-Farm Animal Project, parents can help give rescued animals a new beginning and inspire compassion in their children by sponsoring an animal in the name of their child (or in their own name). Each unique sponsorship package includes a personalized adoption certificate and beautiful color photo that make the perfect addition to any Easter basket.
Farm Sanctuary's shelters provide lifelong care for more than 1,000 farm animals rescued from cruelty and neglect, including forty-nine baby chicks— dyed green, orange, red, pink, purple and blue as part of a cruel Easter promotion— who were seized in April 2007 from a Brooklyn pet store and brought to refuge at Farm Sanctuary's New York Shelter. Discovery's Animal Planet Network later featured this rescue on the popular "Animal Precinct" television program. The public is invited to visit with these now grown up birds, and hundreds more cows, pigs, sheep, goats and chickens, when the shelter opens its barn doors for tours May 1.
Choose one of the special individuals below, or sponsor them all! You can also make a special one-time gift to the animals.
Howard and Princess Cornwall were carelessly discarded after their "owners" lost interest in them, and they were left to fend for themselves without a friend in the world. Safe at our New York Shelter, these two know they are now respected and cherished. Sponsor one of these survivors for the special person you cherish most.
Mr. Pickles and Turtle were seized as tiny chicks from a city pet shop; their feathers had been dyed in Easter egg colors as part of a cruel promotion. All grown up now, this pair's true colors are finally shining through but they are in need of loving sponsors to show them that they are beautiful and loved, just as they are.
Aunt Bea and Buttercup were abandoned on a busy highway and left defenseless and alone. Thanks to a caring citizen who came to their rescue, these two were delivered to Farm Sanctuary and will never be in harm's way again. Sponsorship of these adorable bunnies is the perfect Easter gift for loved ones of all ages.
About Farm Sanctuary
Farm Sanctuary is the nation's leading farm animal protection organization. Since incorporating in 1986, Farm Sanctuary has worked to expose and stop cruel practices of the "food animal" industry through research and investigations, legal and institutional reforms, public awareness projects, youth education, and direct rescue and refuge efforts. Farm Sanctuary shelters in Watkins Glen, N.Y., and Orland, Calif., provide lifelong care for hundreds of rescued animals, who have become ambassadors for farm animals everywhere by educating visitors about the realities of factory farming. Additional information can be found at farmsanctuary.org or by calling 607-583-2225.