In a few weeks, the nights and mornings will be growing colder and Jackets and blazers are helpful to keep the chill away.  I prefer simple pieces that go well with anything,  that I can throw off and on as needed.  However, it can be hard to find cute cover-ups made without wool.  Here are my sheep-butt-free picks for this fall: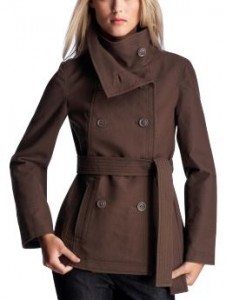 Gap Double-placket belted coat -Totally cotton and totally cute. This jacket is a lighter alternative to the winter peacoat.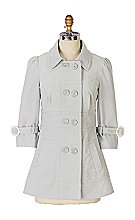 The Silver Lining Jacket from Anthropologie – I'm in love! This corduroy jacket is simple, girlie, and chic.

The Brindavan Jacket from Anthropologie – This piece is super feminine, and perfect for a semi-casual day at the office.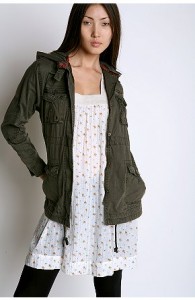 Alpha McGyver Jacket– Available online only from Urban Outfitters, this jacket is the epitomy of utility chic. And with a name like that… how can it not be awesome?

Faux Wool Pea Coat– This is the perfect piece for when the chilly night turn a bit colder. A nice alternative to the traditional bland peacoat.