The month of love is upon us!  Every month should be filled with love, but February, in particular, is one where it's in the spotlight.  While you no doubt have plenty of plans to lavish love upon your special someone, don't forget to indulge in a little self-love too!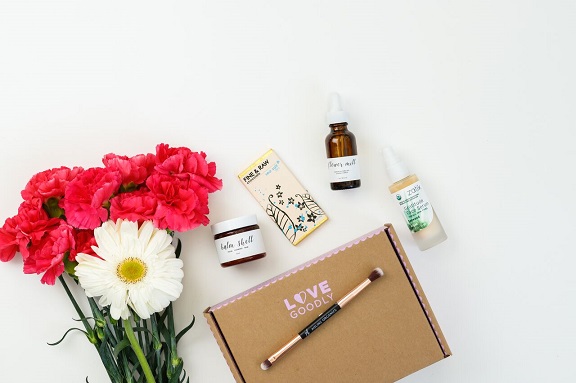 The Love Goodly box for February/March is filled with plenty of things to make sure you pamper yourself just as much as others.  Lucky me got to review this box and I can tell you now it was a good one.  Spoiler alert: there's chocolate.
The Love Goodly February/March Box Contained:
Aisling Organics Duel-Sided Luxe Shadow Brush – I know I get to review a beauty box every two months, but I am not a typical beauty person.  I don't wear fancy make-up most days and when I do I watch countless YouTube videos to get it just right.  Don't get me wrong, I love make-up, it's just not one of my talents.  WHICH is why I love when Love Goodly includes some basic tools to get the job done.  I had one shadow brush before this and I'm pretty sure I got it in high school at the local drug store.  I figured one brush was as good as the next.  It is not.  This shadow brush is awesome and makes me look like I actually know what I'm doing when I put on eye shadow.  The fact that it's cruelty-free and vegan is just the cherry on top.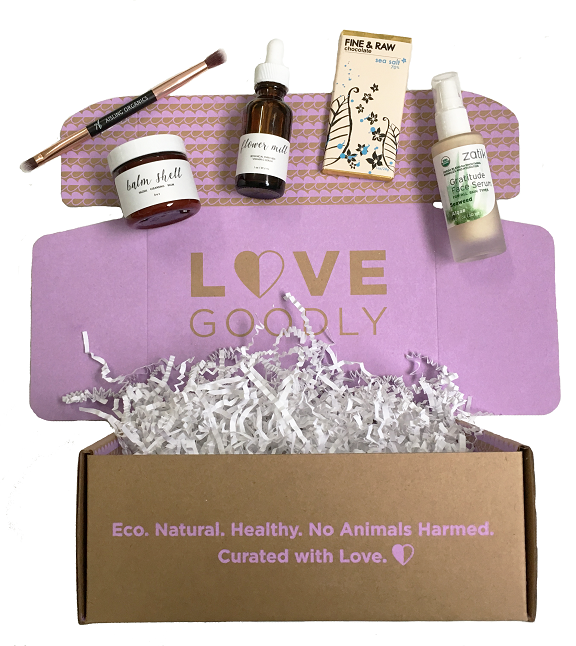 Flower Mill Balm Shell – Normally I use makeup wipes to remove my makeup, so I was a little perplexed how a
balm was going to get my face free of all makeup.  Once again I have been shown the error of my ways.  This balm is made with essential oils like rosehip seed and lavender along with mango and shea butter.  It goes on like a dream and removes everything even better than my wipes.  Plus it hydrates my skin which is a definite plus during the colder months.
Zatik Gratitude Face Serum – Speaking of hydration, this face serum might be my favorite thing from this box.  We have had a few -20 degree days here in the Midwest (thanks Polar Vortex) and with this serum, I have not had to deal with dry, itchy skin.  It's made with organic herbs, marine algae, and seaweed and it's nontoxic, non-GMO, vegan, and cruelty-free.  If you have trouble skin, this is going to be your new best friend.
Fine & Raw Chocolate – How can you love yourself without a little chocolate?  This raw, dark vegan chocolate is made in small batches so it is sustainable and sourced directly from cacao farmers.  It's only sweetened with coconut sugar, so it's a delightful way to indulge your sweet tooth.  It also goes great with wine, tea, or coffee so you can indulge at any time of the day!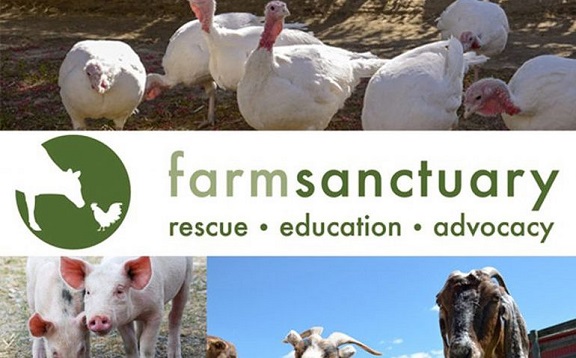 Every Love Goodly box supports a charity partner and this boxes proceeds go to Farm Sanctuary.  If you want to try Love Goodly but need a little more convincing, they have given Chic Vegan readers a discount code.  Use CHICVEGAN for $5 off of your first bi-monthly subscription and get ready to pamper yourself!