Ratatouille is a vegetable dish from the south of France, particularly in the area of Nice, also known as the French Rivera. This delicious colorful healthy low-fat dish contains eggplant, tomatoes, zucchini, onions, peppers and garlic. Each vegetable is cooked individually first and then they are all brought together until a smooth texture. And the smell, oh the smell… The use of flavorful herbs such as bay and thyme will make your neighbor drool on your doormat.
Tomatoes are known for their high content in molybdenum, and vitamin K and C as well as biotin. They are also an excellent source of phosphorus, potassium, vitamin A (in the form of beta-carotene), copper, manganese, dietary fiber, vitamin B6, niacin, vitamin E and folate. Studies show that cooking tomatoes increases their nutritional value, boosting the lycopene content as well as the overall antioxidant activity. Tomatoes are known to promote healthy skin cells and strong bones, help the body regulate blood sugar and fight against the formation of free radicals known to cause cancer.
Eggplants are a good source of dietary fiber, vitamin K, thiamin, vitamin B6, folate, potassium and manganese, and also promote cardiovascular health and free radical protection.
Zucchini's good amount in antioxidants, water and dietary fiber makes it a great food to help the body fight respiratory problems, build a strong immune system, lower cholesterol and promote weight loss.
Another wonderful thing about Ratatouille is that the recipe can vary and take you to highly creative grounds: have some fresh vegetables sitting in your fridge such as mushrooms and mangetout? Feel free to add them to the mix. Also, you can play around adding aromatic elements like olives or fresh basil.
Delicious as a pizza filling or in roasted stuffed bell peppers, Ratatouille can also bring new life to the most boring leftover cooked rice.
Enough already: let's get cookin'!
Rustic French Ratatouille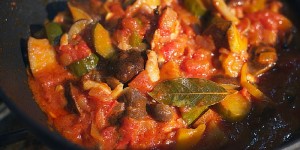 Preparation time: 20 minutes
Cooking time: 60 minutes
Serves 4

Ingredients:
1 1/2 cup eggplant
1 1/2 cup zucchini
1 1/2 cup red, yellow green bell peppers
1 1/2 cup onions
2 cups ripe tomatoes, peeled
3 cloves garlic
5 tablespoons extra virgin olive oil
1 sprig of thyme
1 bay leaf
salt (Himalayan Crystal Pink or Celtic Sea salts are best) and pepper
Preparation:
Cut the peeled tomatoes, eggplant and zucchini into slices. Slice the peppers into strips and cut the onions into rings.
Using a wide, thick-bottomed sauté pan, coat the bottom of the pan with 3 tablespoons of olive oil and heat it on medium high heat until the oil is shimmering. Add the onion slices and peppers strips and stir to coat the mixture with the oil. Spread out evenly over the pan and let cook, stirring occasionally. When tender, add tomatoes, chopped garlic, thyme and bay leaf.
Add salt and pepper and simmer gently for 45 minutes.
Meanwhile, prepare the eggplants and zucchini. Cook separately in 2 tablespoons of olive oil for 15 minutes. Stir occasionally.
When the eggplants and zucchini are tender (check with a fork), add to the large sauté pan with the simmering tomato mixture and continue cooking over very low heat for 10 minutes.
Taste (careful, it's hot!) and add salt and/or pepper if needed.
Enjoy hot or cold.