Looking for a healthy snack? Rhythm Superfoods has just what you need!
Do you ever need a satisfying snack in the afternoons? I often feel my stomach rumbling a few hours after lunch before it's time to go home from work. And I'm always looking for snacks that are easy to keep in my desk.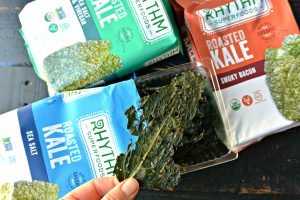 So I was really happy when Rhythm Superfoods sent me some of their Roasted Kale and Broccoli Bites to try. This company from Austin, TX makes all sorts of snacks, including kale chips and beet chips. You may have noticed their products at veg fests or your local supermarket.
All of their products are vegan and gluten free, except for the Honey Mustard flavor which is vegetarian.
I tried three flavors of the Roasted Kale: Sea Salt & Vinegar, Smoky Bacon, and Sea Salt. I really liked the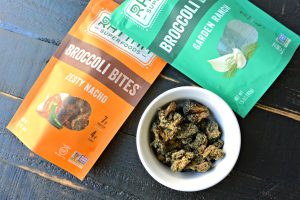 classic Sea Salt. My favorite thing about them is they use organic Lacinato kale leaves. They also come in Chili Lime and Roasted Garlic & Onion.
I also tasted the Broccoli Bites in Zesty Nacho and Garden Ranch. If you're not a big fan of kale, these would be a great option for you. They also come in Asian Citrus.
Check out the Rhythm Superfoods store locator and give them a try. I know I'll be keeping some stashed in my desk drawer. Let me know in the comments if you do!