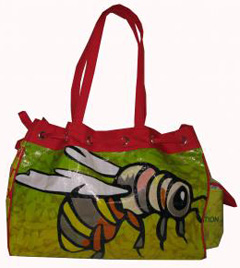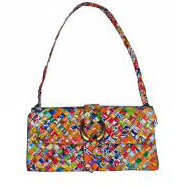 Raecyclements is a Orange County based company started by designer Rebecca Molina, that creates handbags and wallets from materials saved from an earth-condemning life in a landfill.  This line is called Rejuviebags, and it has a much greater purpose than just fashion.
Made from 100% recycled materials such as juice packs and rice sacks, these bags are created by a women's fair trade co-op in the Philippines. This enables these women to have fair income, gather working experience, and create amazing works of art. Each bag is hand made and takes almost a full day to create, making each bag one of a kind. Raecyclements also donates percentage of the sales proceeds to the Leukemia Lymphoma Society.
What better way to save the earth, provide jobs, donate to a good cause, and make a fashion statement!