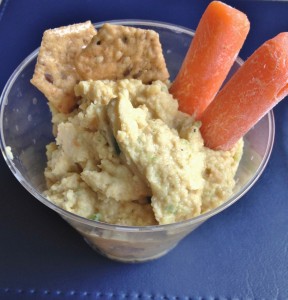 Not only is the calorie-laden and sugary-goodness-filled foods a holiday tradition, but so is unrelenting snacking.  Our offices have holiday parties and extended lunches, our homes have super rich and homey traditional foods.  How do you combat that?  By keeping healthy snacks close-to hand.  Have some Spicy Peanut Butter Hummus!
Spicy Peanut Butter Hummus
Ingredients
2 cans garbanzo beans
1 jalapeno, washed and chopped
1 tablespoon sesame oil
3 tablespoon peanut butter
2 tablespoon lemon juice
3 tablespoon light almond milk
1 teaspoon ginger
1 teaspoon garlic powder
1/2 teaspoon black pepper
Preparation
Drain garbanzo beans and dump into food processor.
Add rest of ingredients.
Turn on processor and let go until completely mixed.  Scrape sides if necessary.
Enjoy!!