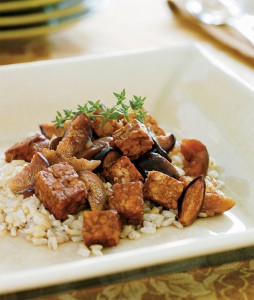 Looking for a sophisticated dish? Well, look no further than this recipe from my first book, The Vegan Slow Cooker. This recipe combines the complex flavor of port wine with fresh figs and nutty tempeh. Serve over mashed potatoes with roasted asparagus for a meal that will wow the toughest critic.
Slow Cooker Tempeh Braised with Figs and Port Wine
Prep time:  
Cook time:  8 hours
Total time:  
Serves 4
Ingredients
2 tablespoons (30 ml) olive oil
1 small onion, minced
2 cloves garlic, minced
1 package (8 ounces, or 225 g) tempeh (*use plain soy tempeh to make this dish gluten-free), cubed
8 fresh figs, each cut into 6 wedges
1⁄2 cup (120 ml) water
1 cup (235 ml) port wine
1 tablespoon (15 ml) balsamic vinegar
1 tablespoon (6 g) vegan chicken-flavored bouillon or 2 tablespoons (12 g) Chickeny Bouillon (page 19)
1 sprig fresh rosemary
1 sprig fresh thyme
Salt and pepper, to taste
Instructions
The night before : Heat the oil in a skillet over medium heat and sauté the onion until translucent, 3 to 5 minutes. Add the garlic and sauté for 1 minute longer. Combine in an airtight container with the cut-up tempeh and figs and store in the fridge.
In the morning: Combine all the ingredients in the slow cooker. Cook on low for 6 to 8 hours.