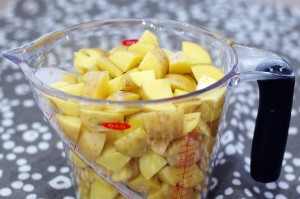 This is a mild curry that is a perfect Indian starter dish. If you have friends and family that say they don't like Indian food this is the dish that will change their minds.
Slow Cooker Potato Cauliflower Curry
Ingredients
2 tablespoons olive oil
1 small onion, minced (about 1 cup)
1½ teaspoons cumin seeds
3 cloves garlic, minced
1 tablespoon grated ginger
2 teaspoons ground turmeric
1 teaspoon ground coriander
¾ teaspoon ground cardamom
4 cups Tasteful Selections Honey Gold Potatoes, cut into chunks (1 – 28 oz page)
4 cups small cauliflower florets
1 to 2 cups water
1 – 14.5 can diced tomatoes
¼ to 1 teaspoon chili powder, to taste – optional
salt, to taste
steamed rice, for serving
Instructions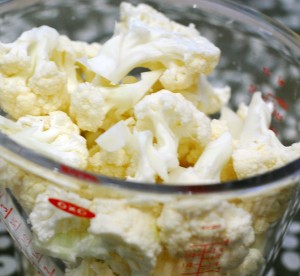 Heat the oil in a saute pan if you are making the slow cooker version or a large soup pot if you will making the whole dish on the stove.
Once hot add the onions and saute until translucent, about 10 minutes. Stir in the cumin seeds and saute for about 3 minutes. Then add the garlic, ginger, turmeric, coriander and cardamom and saute another 3 minutes, or until the spices become fragrant.
Finish in the slow cooker:
If you are going to cook it the rest of the way in the slow cooker add the cooked onion and spice mixture, the potatoes, cauliflower, 1 cup of water and the diced tomatoes with liquid. Cook on low for 8 to 9 hours.
Before serving add chili and salt to taste.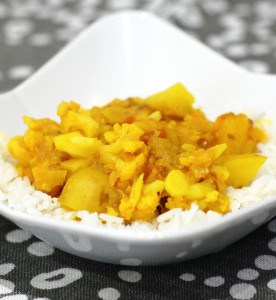 Finish on the stove:
Add the potatoes, cauliflower, 2 cups of water and the diced tomatoes with liquid into the soup pot with the cooked onions.
Bring to a boil, then lower to a simmer and cook until the potatoes are tender about 15 to 20 minutes.
Add chili and salt to taste before serving.
Lazy tip: If you want to you can skip the sautéing and throw everything into the slow cooker. It won't be quite as flavorful, but it can really make your life easy during a busy week.