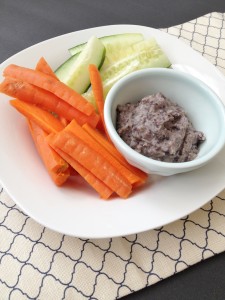 I decided that since the holiday parties are starting and the baking has finally stopped that I needed a healthy snack alternative to keep on hand to keep myself on track. All that snacking that happened during those wonderful holiday happenings has left me snack happy! And what better snack is there than hummus with veggies? There is nothing really – especially when you keep remaking the hummus into something better each time! It's especially great when a coworker wants to taste it and they are shocked to learn that 1.) it tastes good (lol), 2.) yes, you did make it yourself, and 3.) that you did the beans yourself too. I love when people taste what I make and say that they like it – especially non-vegans! Here is another hummus recipe for your collection – Roasted Garlic Black Bean Hummus.
Roasted Garlic Black Bean Hummus
Ingredients:
2 cups dry black beans
1 garlic bulb
2 teaspoons dried oregano
2 teaspoon Homemade Season Salt
1/4 cup unsweetened almond milk
Preparation:
Soak dried beans overnight, rinsing once during the process. Dump water and rinse both the beans and pot. Put beans back into the pot with enough water to cover beans. Bring to a boil then lower heat and put lid on skewed. Let cook until beans are soft.
Roast garlic for 45 minutes wrapped in foil or parchment paper. Cut top of bulb of garlic and drizzle with a little oil and sprinkle black pepper. Let beans and garlic cool – you need to be able to squeeze the garlic out without burning your fingertips off.
Squeeze the roasted garlic out of the bulb. Place beans, garlic and spices into food processor.
Start the food processor, and add the almond milk a little at a time until everything is blending. It won't be super-smooth, but it will be smooth enough to scoop up with veggies.
Enjoy!