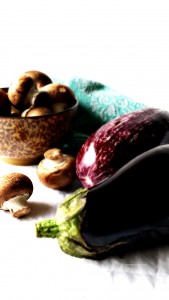 Gluten-free, simple mushroom and eggplant filling version has all the taste you remember from higher fat, processed carbohydrate ravioli but this one won't leave you feeling like you're 7 or 8 months pregnant after with bloating, stomach pressure and pains.  Just a delicious plate full of yummy pasta-like Italian flavors.
Gluten-Free Spicy 'Shroomin' Eggplant Ravioli
Ingredients
2 packages of rice flour wonton wrappers or about 60 wrappers
1 medium size eggplant, sliced into 1 inch pieces
2 cups of mushroom chopped
1 garlic clove, diced
1 tablespoon Italian herb seasoning
1 teaspoon sea salt
1 teaspoon ground fennel
pinch of red pepper
1/2 cup shredded non-dairy cheese
Your favorite spaghetti sauce
Make sure that your wonton wrappers are thawed before stuffing them with the ravioli filling. You'll use 2 wrappers per ravioli. I tried using 1 at first and it was just too thin for the filling.
In a food processor, combine mushrooms, eggplant, garlic, Italian herbs, fennel, sea salt and red pepper. Pulse until you have a coarse ground texture that sticks together when you pinch it. Remove the mixture to a fine mesh strainer and allow the mix to drain for about 1 hour to remove excess moisture from the mushrooms. * you can do this prior to mixing all the ingredients if you like, I just saved myself the two step by combining everything first.
Stir in the vegan shredded cheese to mix and set aside.
Lay out doubled wontons on paper towels to begin filling. Place a teaspoon full of your filling mixture into the center of each wonton. There will be enough filling for about 30 raviolis. Take each ravioli one at a time and wet, lightly, the outside edges with water using your finger tip. Pinch together the sides to create squares or triangles, sealing the filling inside to create a ravioli. Pictured in this post, I made triangle shapes and then folded two of the sides to the middle to form these little purse like shapes. It's up to you, they'll taste the same no matter which shape they're in.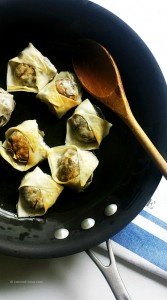 Freeze your raviolis until you're ready to use them.
For fried raviolis, heat olive oil and brown each side of your thawed raviolis until browned. For baked, baste each ravioli with a touch of oil before baking them on a non-stick surface for about 15 minutes at 350 degrees then broil to brown the tops of each.
Notes
Makes 25 – 30 raviolis depending on how much filling you use in each. Store frozen for up to 6 months in a sealed container.