I like to read. There are old photos of me as a toddler, perusing the newspaper. When I started Kindergarten, I was quickly given the opportunity to go to the first grade reading class. When I moved to a new school later in the year, they skipped me completely into that grade, and soon after, I became a fan of the Scholastic Book Club.
I've read thousands of books over the past thirty-five years: memoirs and biographies, how-to's and self-help books, fiction and non-fiction. Late last year, I discovered Litsy, a social media app for booklovers. It's been great meeting others who share my love of words. My "to be read" shelf has doubled, and I've been introduced to great people, topics, and writers.
This network has also given me the opportunity to share my own reads, including those on veganism and animal rights. When the opportunity to host a traveling book arose this summer, it sounded like a great way to start a discussion. I chose non-fiction, pulled my copy of Melanie Joy's Why We Love Dogs, Eat Pigs, and Wear Cows off the shelf, and put out the call for six readers.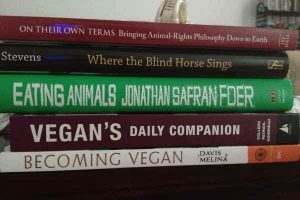 I suspected that it might be difficult to find six people willing to read a book about carnism. As the days passed and other traveling book groups formed, I got nervous. But eventually, the slots filled, and the book will be traveling through February 2018, along with a notebook for thoughts on the book from each reader. I had no idea when I selected this book that Joy had a new one coming out this year, but I'll take it as a sign of great timing.
Traveling books and online bookclubs are great options for introverted activists. Each gives you a chance to collect your thoughts and the time to express them clearly. For me, the prospect of an in-person bookclub has always been daunting; I'm not great with groups of people and I am much more comfortable in writing than in spoken word.
I also look at this as an opportunity to try to improve my reading retention. According to Goodreads, I've read 144 books so far this year. I'm currently in the middle of five more, and there are plenty waiting after that. Unfortunately, I've already forgotten the names of characters and the threads of plots on books I've rated with four stars. Writing my thoughts down during or after a read should help me to remember key points in books I've loved. While I've managed to retain a lot of fascinating, horrifying, and important information about the topics of animal exploitation and veganism, I want to make sure I'm always learning about these topics so I can be a strong advocate for animals.
If you like to read and know others who share the feeling, consider a traveling book as part of your animal activism. There are so many new books out this year – some of which we've reviewed here at Chic Vegan – but older standbys like Animal Liberation or Eating Animals would be great choices. And if you'd like to join us on Litsy, round two of my traveling book is open for readers starting in March!
---
You can find Daria on Litsy @dariazeoli, and on Goodreads.
Feature image: ginnerobot
SaveSave