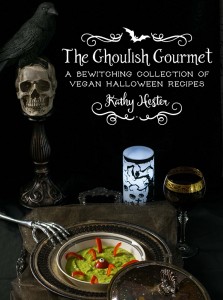 If you are looking for a Halloween sweet treat for your little ones that's not filled with sugar, you are in the right place! If you or your child is avoiding refined sugars, Halloween can be a tough holiday.
Make it easier on everyone by hosting your own ghoulish gathering. You will know what's in everything and you'll be able to accommodate any other special dietary needs.
My pumpkin juice recipe is sweetened with dried apricots only and even has pumpkin puree mixed in. Best of all is that it's lightly spiced with the flavors of autumn.
This is just one of the 25 spooky recipes you'll find in The Ghoulish Gourmet Halloween e-Cookbook.

Pumpkin Juice
There's more to pumpkin juice than just breaking into a haunted pumpkin patch, fending off the zombies, and juicing a pumpkin. My version simmers spices, fresh ginger and vanilla bean – with apple juice to infuse it. Then it's blended with soaked dried apricots, pumpkin purée and a little nutmeg. It's sweetened only with dried apricots.
Makes 4 to 6 servings
Ingredients
10 dried apricots
1½ cups water
2 cups apple juice
1 cinnamon stick
7 whole allspice berries
2 (2-inch) pieces of thinly sliced ginger
½ vanilla bean, split (or ½ teaspoon vanilla extract)
½ cup pumpkin puree
⅛ teaspoon ground nutmeg
Preparation
Soak the apricots in the water for at least 4 hours or overnight in the fridge. Add the apple juice, cinnamon stick, allspice, ginger and vanilla bean to a saucepan. Bring almost to boil, then turn heat to low and simmer for 10 minutes. Take off heat and let it cool a bit.
Add the apricots and the soaking water to a blender and blend until smooth. Add the pumpkin purée and nutmeg and blend again. Strain the apple juice mixture into the blender to make sure only the liquid comes through. Blend until smooth.
Put a fine mesh strainer over a pitcher and strain the pulp so that only the thick juice drips into the pitcher. Sprinkle with ground nutmeg before serving.
Recipe from The Ghoulish Gourmet by Kathy Hester. Photos by Kathy Hester.
The Ghoulish Gourmet is available for purchase here: http://tinyurl.com/GhoulGourmet