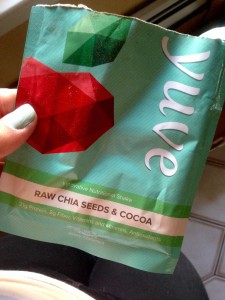 I love that the plant-based protein powder marketing is blowing up! Yuve, created by Lola Sherunkova, is one of the newest on the market. I consider myself a protein powder connoisseur and while I have some favorites, I'm always delighted to try new products.
Made from raw chia seeds and cocoa powder with a hint of raspberry, Yuve is a unique blend of superfoods that packs 16g of protein per serving! Made from all natural ingredients and no artificial colors, flavors or preservatives, yuve is a nutritional powerhouse. At 2g of fat, 18g of carbs and just 2g of sugar, yuve is an "innovative nutritional shake" made from a unique blend of pea protein, maca root, acai berries, alfalfa sprouts, broccoli, raspberries, prunes, spinach, brown rice protein, goji berries, kale, chia seeds, red grapes, coconut, buckwheat, flaxseeds, spirulina, chlorella, papaya, stevia leaf, and cocoa. Wow, right? Believe it or not, the dominant flavor is still a subtle chocolatey goodness.
You can use yuve in smoothies, oatmeal, or on its own. But when I'm interested in testing out new protein powder, I test it out in two ways: with plain almond milk and in my 4 ingredient pancakes.
First, I tried it with plain, unsweetened vanilla almond milk in a blender bottle. On serving and about 1 1/2 cups of milk, shake it up! Tasted like a frothy, chocolate milkshake. It was unique and slightly tart but sweet.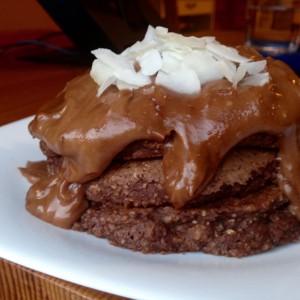 I was looking forward to trying it in my Sunday pancakes but this would be the true test. Not every protein powder holds up to being made into pancakes so it's a crucial test when I'm deciding if I should add a new protein powder to my pantry.
The pancakes mostly held their shape (I followed my 4 ingredient protein pancake recipe found here) but did kind of crumble when I cut into them. Still, they were surprisingly relatively firm and very tasty. I added some chocolate peanut butter fluff and coconut shreds as topping and dug in!
All in all, yuve is a success! Get a free sample here or save 20% off your first order!