DeVita is an all-natural, 100% vegan beauty brand recently used in the Vaute New York Fashion Week show.  The brand has almost two decades of experience in cruelty-free and vegan cosmetic production.  Cherylanne DeVita, President/CEO was fed up (aren't we all) with cosmetic products that were full of empty promises and toxic chemicals.  In addition to their vegan and cruelty-free standards, DeVita also uses recycled materials for its packaging, encompassing another aspect of the meaning to be a truly vegan and compassionate company.  DeVita has received multiple recognitions from Natural Solutions magazine's "Beauty with a Conscience" awards.
As someone who greatly appreciates affordable and unquestionably vegan beauty products, I continue to be in love with this brand!  I was sold when I found their Tattoo Aftercare Cream for those of us inked vegans that get recommended paraben-full, animal-tested ointments for tattoo care.  Anyway, here are a couple of my favorite products:
Creamy Aloe Eye Makeup Remover
Confession: As of late I have forgone eye makeup remover in lieu of pulling my mascara off with my nails.  I was annoyed by eye makeup remover that felt like olive oil sponged onto my lids and lashes.  This was before I got my hands on DeVita's phenomenal eye makeup remover!  Made with aloe and avocado oil, my face actually feels cleaner, not oilier, after using this eye makeup remover.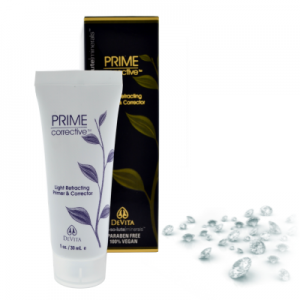 I have never had a product like this before, and it's now part of my daily routine.  Not quite a moisturizer and not a foundation, this primer & corrective goes on clear to smooth out blemishes and leave an even complexion.  If I am in a rush in the morning, this product gives me confidence to run out the door without BB Cream, foundation, or blush.
I am normally averse to lip volumizer and plumpers because they make my lips feel numb; however I have never come across vegan lip volumizer before, and I love this one!  It volumizes by giving your lips the plant-based hydration they need to be healthy and comes with SPF 15 to protect in sun exposure.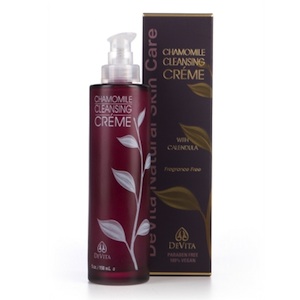 This cleansing cream is easy on the skin and great as a light, daily cleanser.  It feels soft and provides just the right regeneration for exhausted or sensitive skin.  I like to use it in contrast to more intense facial scrubs to give my face a simple, healthy cleanse.