Who says when you are living a healthy lifestyle to have to forego chocolate? Not me! And not the folks behind Addictive Wellness.
Addictive Wellness chocolates are unlike any other raw chocolates I've tried. They're made with both superherbs and superfoods that pack exotic taste and nutrient dense ingredients in every bite. They're sugar-free and therefore suitable with anyone who has to watch their blood sugar levels–xylitol and stevia are where their subtle sweetness comes from. Their raw cacao is sourced from Fair Trade sources. Plus, they are non-gmo and made in a dedicated facility free from common allergens including soy, dairy, nuts, GMOs, sugar, eggs, wheat, gluten, and fish–perfect for people that suffer from any of these allergies.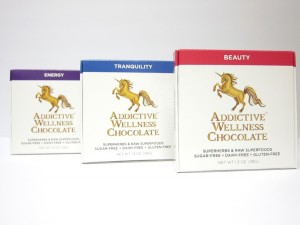 I was sent a 3-pack of their chocolates to sample. Being that these chocolates are raw, 89% cacao, and infused with flavors of tree mushrooms like Tremella,  Ashwagandha, and Reishi mushrooms (to name a few), I didn't know what to expect. Would they be too bitter? Too earthy? I nibbled with hesitation…
However, I was pleasantly surprised that while their flavors were complex and outside of the realm of my normal chocolate-eating habits (and I have a lot of those!) that they were delightfully palatable. I could tell I was eating a very sophisticated and delicate chocolate product.
They're not the type of chocolate that satisfies a true sugar craving, but that's not the intention behind Addictive Wellness. Their mission is to be able to help people enjoy chocolate in a healthful way by using ingredients that have been used in the Taoist and Ayurvedic systems and indigenous cultures for years. Great attention and care is given to producing artisan chocolate where the body absorbs the maximum potency of every ingredient. This is definitely a chocolate that you don't have to feel guilty about enjoying!