The saffron threads are responsible for the beautiful orange-yellow color of this dish. Once the rice and broth are added, the dish is no longer stirred. It cooks uncovered while the rice absorbs the broth. As the rice cooks, it develops a flavorful crust on the bottom of the pan called socarrat – a welcome result of not stirring the rice. Using a nonstick pan will prevent the socarrat from forming, but the dish will still taste great.

Paella Bowl
Broth
3 1/2 cups vegetable broth
2 teaspoons smoked paprika
1 teaspoon sea salt
1/4 teaspoon saffron threads
Sauté
3 tablespoons olive oil
5 artichoke hearts, quartered
1 medium yellow squash or zucchini, halved lengthwise and cut into 1/4-inch slices
1 small red bell pepper, coarsely chopped
1 small Roma tomato, coarsely chopped
4 garlic cloves, minced
4 ounces green beans, trimmed and cut into 2-inch pieces
2 cups frozen lima beans or edamame, thawed
1 cup paella or Arborio rice
Garnish
1/2 cup green peas, thawed if frozen
1 jarred roasted red pepper, cut into 1/2-inch strips
1/4 cup minced parsley
Lemon slices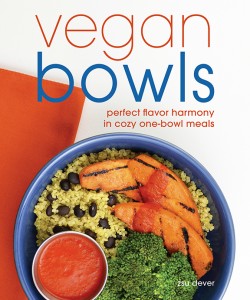 Broth: Heat the broth, paprika, salt, and saffron in a medium saucepan over high heat. Bring to boil, reduce to simmer. Cover and keep warm over low heat.
Sauté: Heat the oil in a 12-inch skillet over medium-high heat. Add the artichoke and squash and cook until golden brown, about 4 minutes. Transfer to a medium bowl. Add the bell pepper, tomato, and garlic. Cook, stirring occasionally, until the tomatoes break down, about 5 minutes. Add the green beans and lima beans. Add the rice, spreading it evenly over the vegetables. Add the broth, taking care not to disturb the rice too much, but ensuring that the rice is submerged in the broth. Reduce the heat to medium and cook until the rice is al dente, about 14 minutes. Arrange the squash and artichoke hearts on the paella and continue to cook until the rice is tender and the broth is absorbed, about 4 minutes longer.
Garnish: Scatter the peas over the paella, arrange the strips of pepper on top of the paella and sprinkle with the parsley. Remove from the heat, cover and set aside for 5 minutes before serving. Serve in bowls with lemon slices.
Serves 4 to 6
Recipe from Vegan Bowls, copyright © 2015 by Zsu Dever. Used by permission from Vegan Heritage Press, LLC.