Spring is here!
As I'm transitioning out of warm bowls of porridge and piping hot cups of tea, I've been coming up with some fun new breakfasts for myself. This one was actually a creation I came up with during our 70 degree week in February here in Pittsburgh, as I had an abundance of in-season citrus and a craving for summer.
This parfait is a nutrient-dense, protein-packed breakfast bomb, rich in calcium, iron, omega-3s, and vitamin C, as well as a host of other vitamins and minerals. Not only is this feel-good food in the truest sense, but it takes virtually no time to make; most of the prep time is hands off. The berries need to be mashed and both the overnight oats and the chia pudding need a measure and a stir, but time does the rest.
For the raspberry jam, I wanted to make something that would be simple enough for anyone to throw together, no matter their hectic schedule. You'll get the same bangin' payoff of a luscious raspberry jam without slaving over the stove. All you need to do is thaw and mash some frozen raspberries and add a touch of maple syrup at the end to balance the sour pucker of the berries. It'll be a lovely jammy consistency if newly thawed or a slightly thinner compote if mashed and then thawed overnight.
Before we get to the recipe, let's talk about the carob oats for a minute, shall we? Thought of as the unwanted hippie chocolate substitute, carob is so much more than that! It is sweet and earthy, and it deserves to be appreciated in its own right. You can get it raw, lightly-roasted, or roasted. I prefer the lightly-roasted. It still has the pure sweetness of the raw with a hint of smokiness from the gentle roasting process. With all that said, if you are a chocoholic who can't shake the carob/chocolate connection, you can use cocoa or cacao powder in place of the carob. But I'm telling you, the carob in this parfait is something special.
Whether you include this in your meal prepping Sundays, serve this for a brunch gathering, or make it the night before for your little ones to enjoy the next morning, this Orange Dream Chia Parfait is sure to be a delight.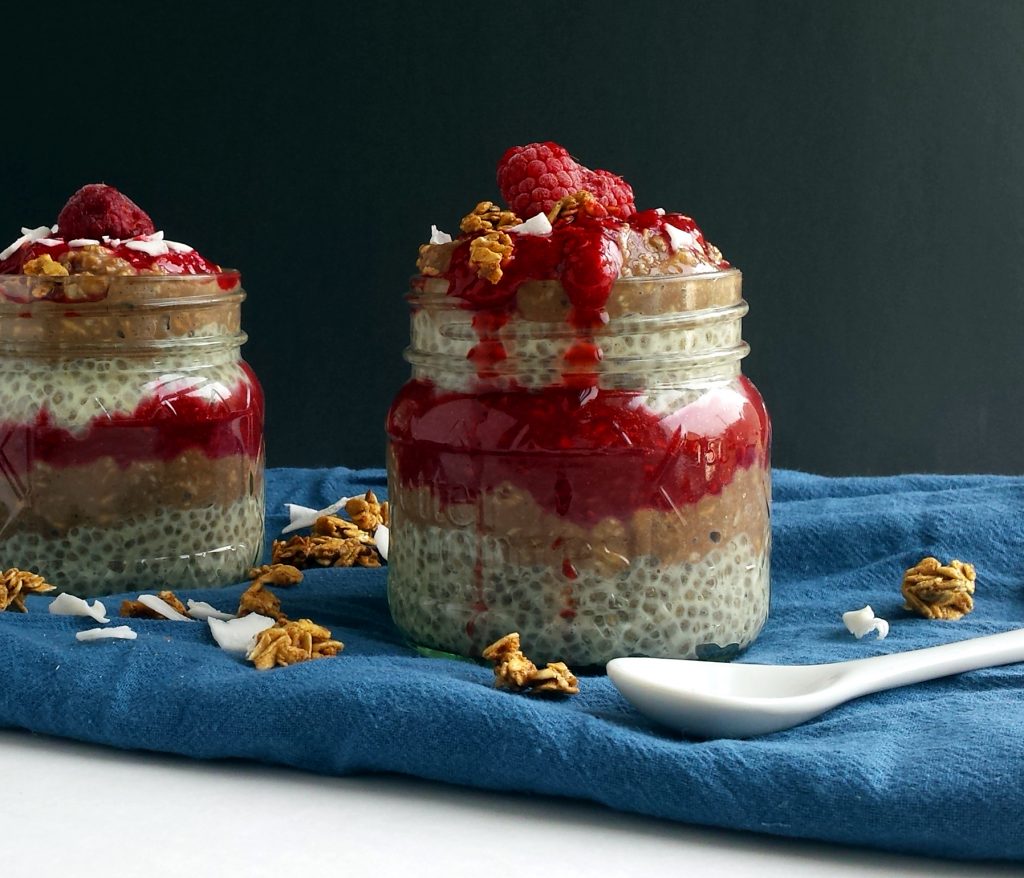 Orange Dream Chia Parfait with Carob Oats and Almost-Instant Raspberry Jam
Ingredients
Orange Dream Chia Pudding
1 ¼ cup plant milk of choice, unsweetened
1 cup freshly squeezed orange juice
½ tsp vanilla extract
¼ cup + 1 Tablespoon chia seeds

Carob Overnight Oats
2 cups rolled oats
2 cups unsweetened plant milk of choice
2 Tablespoons light-roasted carob powder
2 Tablespoons coconut sugar
1 teaspoon vanilla extract
pinch of salt

Raspberry Jam
1½ cups frozen raspberries, thawed and mashed
1 Tablespoon maple syrup

Garnish
Your favorite granola, store-bought or homemade
coconut flakes
fresh berries
Instructions
In a bowl or glass jar, add the plant milk, orange juice, and vanilla and stir. Incorporate the chia seeds into the liquid by whisking with a fork. Cover and refrigerate for 20-30 minutes or overnight.
In a separate bowl or glass jar, mix all of the overnight oat ingredients together. Cover and refrigerate overnight.
In a small bowl, mix the maple syrup and raspberries. Give it a few mashes with a fork, and set aside to thaw, either overnight in the fridge or on the counter top for an hour or so.
To put together, start with a layer of chia pudding, top with a thin layer of overnight oats, then top that with raspberry jam. If you are using any garnishes, you can sprinkle them on top of the jam. Then, start all over again with a layer of chia pudding, then oats, then jam and garnishes until you've reached the top of your serving vessel.