There is a health food store not too far from my house that sells produce from local area farms. It's an eclectic little place, there's always a selection of limited batch vegetables or fruit that I've never seen before. This week it was elephant garlic scapes. I've heard of garlic scapes, but never elephant garlic scapes. They look like big chives with a large pointed bud on the end. They're really pretty. I had to buy them.
So, what is a scape? A scape comes from the garlic plant. In early to mid-June, a garlic plant will send up a stalk from the center of the plant. This stalk is called the garlic scape. The scape, if left on the plant, will form the flower and then seed. Removing the scape allows the plant to put all of it's energy into increasing the garlic bulb size. Scapes can be used just like garlic, though they aren't as strong as a garlic clove. Elephant garlic scapes are the scapes from the elephant garlic plant.
I love finding a new-to-me produce to build a recipe around, like the scapes. The recipe I came up with uses summer vegetables like zucchini, eggplants, and tomatoes. There's red peppers to give the dish a nice crunch, olives to give it a bump of richness, and lemon-dill-garlic to brighten it all up. I had my vegetables sitting on top of a bowl of creamy polenta, but they could just as easily have gone on top of some pasta. If you don't care for dill, swap it out for sweet basil and it works just as nicely with the lemon and garlic. Super simple and super flavorful.
Let me know what you think in the comments or find me on Twitter!
Lemon-Dill Summer Vegetables with Creamy Polenta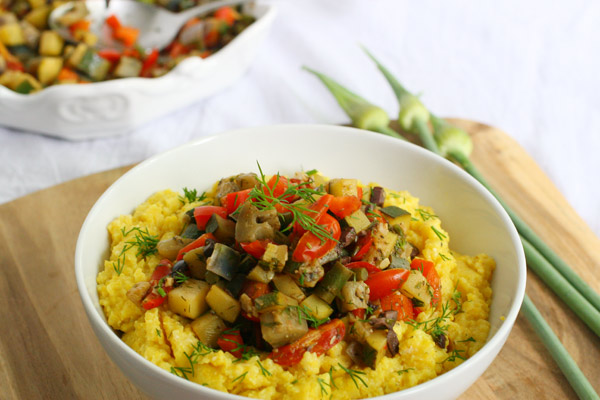 Ingredients
1 zucchini, diced small
2 small eggplants, diced small
1 red pepper, diced small
1/2 pint grape or cherry tomatoes, quartered
1/3 cup pitted kalamata olives, chopped small
Juice from 1 lemon
4 – 5 stalks of garlic scapes (or green onions)
1 clove garlic, minced
1/2 teaspoon salt
handful fresh dill
Fresh cracked pepper to taste
Directions for the Summer Vegetables
Heat an iron skillet on medium heat. Add zucchini and cook for a minute.
Add eggplants, red peppers, and half of the lemon juice. Cook for two minutes.
Add remaining ingredients except for the dill, reduce heat to low, and cook until all of the vegetables are tender. About 3 – 5 minutes.
Remove from heat, stir in dill, and serve over creamy polenta or pasta.
Directions for the Polenta
Polenta is an Italian corn porridge. If you've never made polenta before the first thing you should know that it doesn't have to be made with a product that says "polenta" on the package. You can if you want, but you can just as easily use any ground cornmeal- I prefer a medium coarse cornmeal for my polenta. The key to making polenta is the ratio of liquid to polenta- not only does this affect the taste, but the cooking time as well. For this recipe, I used 1 cup uncooked polenta and 3 cups of water. I cooked my polenta in water first, and then whisked in a little soymilk at the end to make it extra thick and creamy. Get the low-down on making the perfect polenta in this article, The Real Rules of Making Polenta (Hint: They're Not What Everyone Says). 
Notes
I didn't use oil to cook the vegetables, I used a well-seasoned iron skillet which prevented the vegetables from sticking. If they had, I would have used a bit of water to help get things moving again. If you prefer to use oil, simply cook your vegetables in a tablespoon or two of an oil like olive oil.