Have you ever gone on a trip that was life changing?  Well Laura Zabo did and that trip was the catalyst behind creating her self named fashion brand that recycles old tires to make cool, vegan products.  While on a trip to Tanzania, Africa, Laura discovered and fell in love with the handmade sandals made from reused tires.  The combination of creating a beautiful product, the sandal, while providing a solution to an environmental issue, the tires, inspired Laura to start Laura Zabo where she offers a large range of vegan accessories handmade in London from repurposed tires.  She received 5,000 tires from German tire manufacturer, Schwalbe, to start her business and now these tires will avoid going to a landfill as Laura has made them into belts, jewelry, guitar straps and dog leashes.
I was a bit skeptical at first about wearing accessories made from tires because I wasn't sure how much you could actually do with a tire.  Then I checked out Laura's site and boy did I change my mind!  I am blown away at what she has created out of basic everyday tires!  Laura let me pick a few items from her collection to test out as part of this product review and I couldn't wait to actually see her products in person.  She has a large assortment and everything is really beautiful so it was pretty tough to decide.  I finally selected the Lone Star Tire Belt and the Outstanding Upcycled Oval Necklace.
The Lone Star belt has a cool rock and roll vibe to it which I love.  The belt nice and thick but not too wide that it can't fit through the belt loops of your favorite jeans.  My favorite part about this belt and the reason why I choose it, is the beautiful buckle which is nice and heavy with great detailing.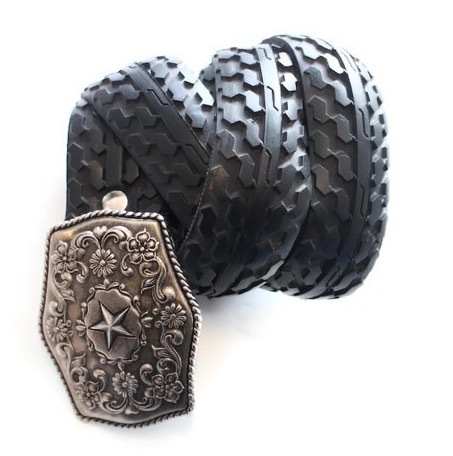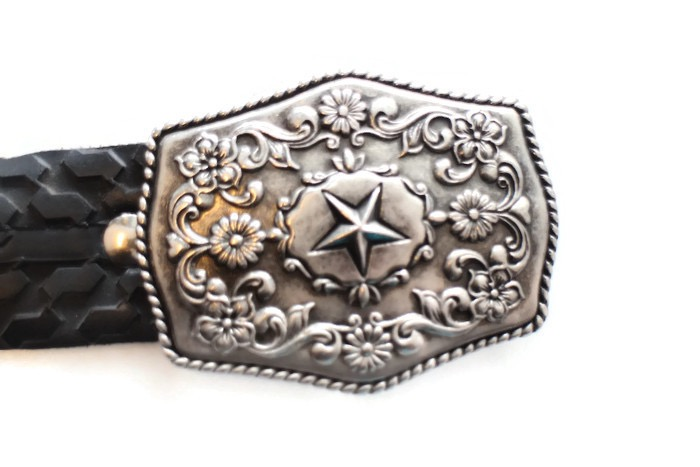 I've always been a fan of jewelry and the bigger the better in my book.  When I saw the Outstanding Upcycled Oval Necklace I knew that I had to have it!  This beautiful necklace makes quite the statement.  It looks great dressed up or down and is super light weight so you can wear it all day long.  You can choose from different color wire (black, purple, green, blue, white, or pink).  The photo below features the white wire…of course I chose black!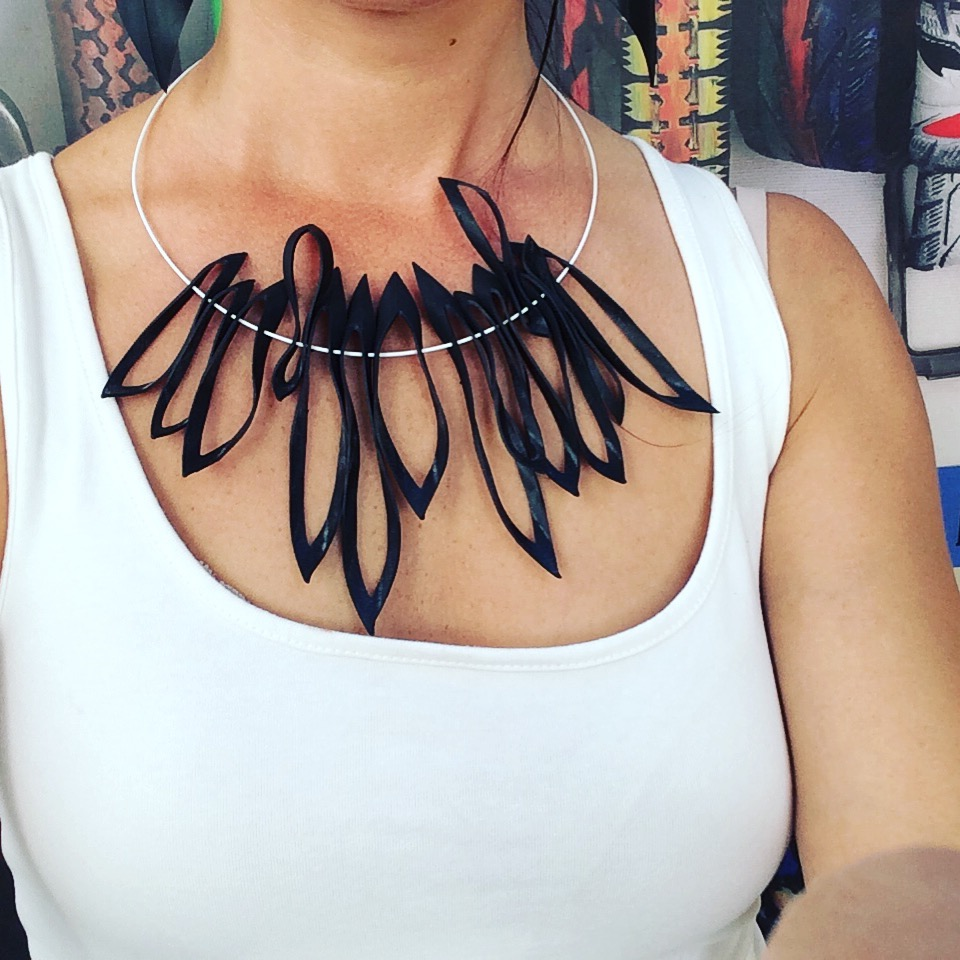 There are lots of other cool products on the Laura Zabo site that you should definitely check out.  With her recycled tire accessories you will not only look cool and fashionable, you will also be helping the environment and what could be cooler than that?