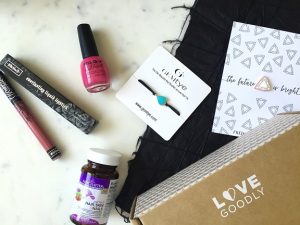 It's pretty much my favorite time of the month when I get my Love Goodly box.  The dynamic duo behind this bi-monthly subscription box, Kate and Justine, always team up with awesome brands and companies to curate unique boxes each time.  I love that they highlight brands that are cruelty-free, support free trade, eco-friendly, and toxin free. Plus the boxes support Farm Sanctuary so your beauty routine can help animals! If you want to learn more about Love Goodly, you can check out some of my other reviews or head over to their website.
Now, let's get to the good stuff!  Here's what came in my June/July box:
Kat Von D Everlasting Liquid Lipstick in Lovecraft – I don't often (read: rarely) wear lipstick.  I never know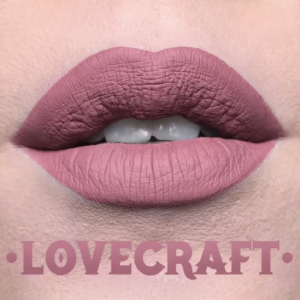 what color to get and it always wears off in like 5 minutes, so I never bother.  This liquid lipstick from Kat Von D Beauty might make me a lipstick convert.  The Lovecraft shade is perfect and goes with pretty much any look you're going for and I LOVE the matte finish.  Plus, it actually lasts all day and has natural moisturizers so it doesn't dry out your lips.  Win-win.
Faby Nail Polish – I always have nail polish on my toes in the summer because I'm always wearing sandals.  I never realized all the junk that is in most nail polishes until I found out that Faby is free of DBP, Toluene, Formaldehyde, Camphor, TPHP, Paraben, and Xylene.  Yeah.  That could all be in your nail polish.  I got the Save the Drive-in color which is a navy blue color.  I would never choose blue for myself, but it goes perfectly on my toes!
Gemtype Custom Heart Bracelet – I always love when my box includes a little bling and this stretchy bracelet also doubles as a cute hair tie.  Ladies, you know you're wearing your hair ties on your wrist, so why not make it cute?  I love the turquoise heart and it's perfect for dressing up a casual summer outfit.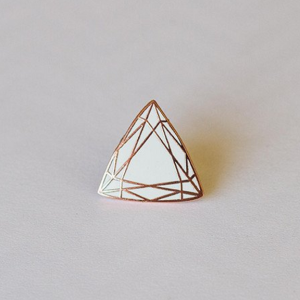 Fred + Far Trillion Pin – The message behind this little pin is one that I try to support every day.  Fred + Far started when founder, Melody Godfred, made a promise to love herself more.  She put on a pinky ring and chose to honor and remember herself every single day and the Fred + Far Self-Love Movement started.  The pin I got is just another reminder to put time and effort into loving myself more.  All the yes!
New Chapter Perfect Hair, Skin, & Nails – Anyone not want perfect hair, skin, and nails?  I didn't think so.  New Chapter's supplement includes Biotin for stronger and healthier hair, skin, and nails as well as probiotics and other natural ingredients to support energy and decrease stress.  This supplement is also vegan, non-GMO, organic certified, and made in the USA.  I've noticed my hair is a little shinier and my nails definitely grow faster than before.  Both great reasons to keep taking this supplement!