Stephanie Nicora is the lovely, talented, & creative mind behind the ethical footwear brand Nicora Johns. Nicora Johns shoes are 100% vegan, eco-friendly, cruelty-free, and ethically crafted in the USA. Last year, with the help of a wildly successful kickstarter campaign (and I am so happy to say I was a backer!), Nicora Johns took the vegan fashion world by storm, one ethically beautiful sole at a time. Less than one year later, Stephanie was named PETA's 2014 Most Talented New Designer, & in honor of their 1 year anniversary, Nicora Johns is set to relaunch this August with a brand new collection. Get ready compassionate fashionistas – from what I hear the N.J. 2nd generation is going to be better than ever!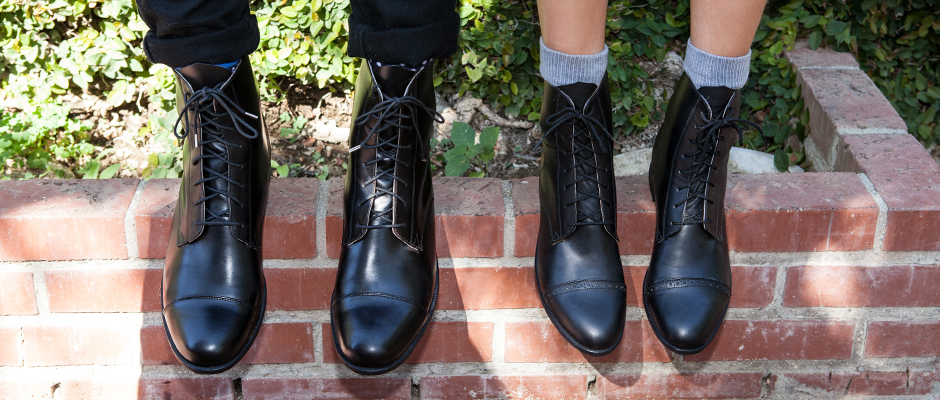 Stephanie's mission is so inspiring, her recent success is exciting, & of course, her shoes are absolutely amazing! I've been a huge fan and supporter of Nicora Johns since day one, and am so honored to share more about Stephanie & her brand with the Chic Vegan community. Here's what she has to say about the future of the vegan fashion, how veganism is incorporated in her company, and what a day in the life looks like for an artisan shoemaker.
Chic Vegan – Tell me a little bit about Nicora Johns and what inspired you to create a vegan line of footwear?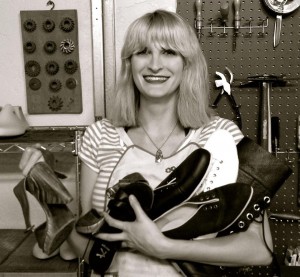 Stephanie Nicora – I am a trained shoemaker, and had been making shoes out of an old barn in my backyard for about a year before starting Nicora Johns. I know a lot about leather from my craft and that means I know that leather is a very dirty material — it cannot be made without toxic chemicals and it cannot be made without the destruction of life. It's my belief that the highly skilled art of crafting shoes is NOT exclusive to leatherwork.
If you'd like a somewhat more in-depth explanation of my experience researching shoemaking and how I arrived at my staunch position in favor of animal-free materials, check out this article.
CV – What makes Nicora Johns shoes different than other "vegan/man-made" shoes on the market?
SN – Aside from the quality and the handmade special touch missing from factory shoes, we also lift the veil of mystery about where the shoes and their 200 parts actually come from. We make everything locally and source everything local too. It's a pretty short — and transparent — route from the materials factory to the Los Angeles shoemakers to the customer.
CV – What do you think is the biggest challenge for consumers who are looking to "veganize" their wardrobe? 
SN – Vegan is easy — seems all the big companies are capitalizing on us as the new niche. For me the challenge consists of the fact that, not only do I want to 'veganize' my wardrobe, but also I want it to be ethical too; no humans, environment or animals harmed. NOW is absolutely the best time for this! The web has made it possible for small companies to bypass the big corporations and produce fashion locally and 'stick to their guns' as far as ethics is concerned. It's not always more expensive, either.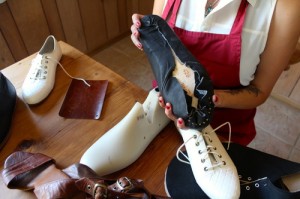 CV – What do you envision for the future of vegan fashion? 
SN – To survive, vegan fashion will have to become superior to environmentally destructive animal-derived materials. I think the cheap plastic version of vegan fashion is going to fade away compared to the vegan companies who are going out of their way to protect the planet while simultaneously helping us look good.
Some plant-based fashion entrepreneurs I admire and am proud to call my colleagues in this exciting and innovative venture are Leanne Mai-ly Hilgart of Vaute Couture, Joshua Katcher of Brave GentleMan, John Bartlett and even brands like Freedom of Animals. The list goes on, but these companies stand out to me as forward thinking, sleek, attractive and so on. Really on the cutting edge of animal-free fashion.
CV – Let's learn a little bit more about you! What motivated you to become vegan? Was it an overnight switch or more gradual shift?
SN – It began with a medically restricted diet, which opened my eyes to what I already knew but was afraid to accept wholeheartedly. Animal production is destructive to the planet and horrifically cruel — not to mention wholly unnecessary. I don't have a philosophical argument, nor do I have an animal rights background, I just know that I want no part of that.
CV – When people learn that you are vegan, what is the #1 question they ask and what is your response?
SN – Of course it's the never-ending, "Where do you get your protein?" Conveniently for me my doctor recommended a plant-based diet due to the cell damage caused by animal protein consumption. My answer is usually, "My doctor said it's best to stick to nuts, grains, beans and tempeh for protein. They're easier for the body to digest."
CV – Walk me through a day in your life.
SN – Meditate, yoga, factory, home, meditate. REPEAT.
CV – You are a busy gal! What do you typically eat in the span of a day to keep yourself feeling nourished & energized ? Are you a snacker?
SF – I prepare most of my food ahead of time so that I don't feel tempted to eat junk food, and I definitely snack all day long.
Breakfast: smoothie made with almond milk, strawberries, raw/vegan/organic protein powder, kale, goji powder and cacao powder, and maybe an avocado with lemon, salt and pepper or miso soup.
Snack: low sugar raw nutrition bar, or nuts or fruit.
Lunch: leftovers – today it was vegan pozole with onion, celery, carrot, kale, hominy and tempeh topped with cilantro and avocado.
Snack: cut veggies, or fruit or nuts
Dinner: today I made a salad with spinach, tomato, carrot, celery and black beans topped with homemade vegan ranch, sunflower seeds, pepperoncini, vegan bacon bits and black olives.
Dessert: green apple. (I know, it's totally boring, but I am low sugar. The cravings just stop after a while.)
CV – Do you have a favorite vegan indulgence?
SN – A whole wheel of Kite Hill's White Alder vegan 'brie' on rice crackers.
CV – What vegan product could you not live without?
SN – Tempeh!
CV – In your wildest dreams, what will your life look like in five years?
SN – I will have sold a million pairs of leather-free shoes by the end of 2019, making a significant dent on the leather market, and competitors will be forced to follow. Half the price of the cow is the skin – destroy the demand and there won't be any more need for supply.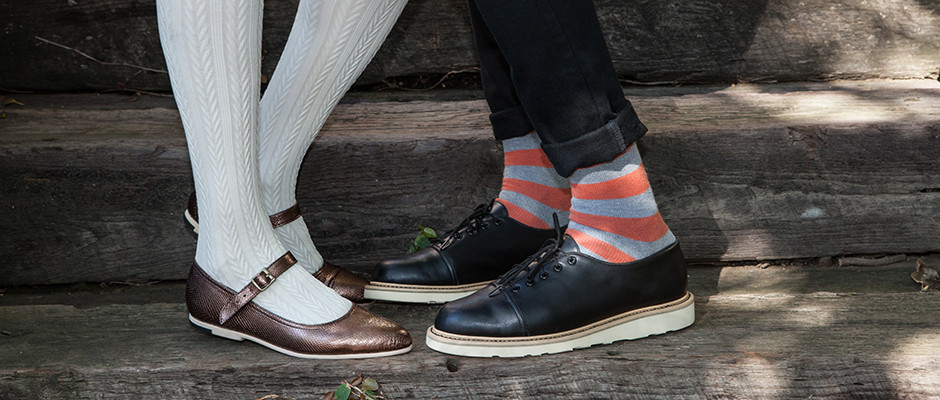 Thank you so much, Stephanie for sharing a glimpse of your "chic vegan" life with us & thank you for all that you are doing to build a more ethical & responsible fashion industry! Be sure to visit the Nicora Johns website to view the new collection, & keep up with Stephanie & the crew on Facebook, Tumblr, Twitter, & Instagram.
(Images courtesy of Nicora Johns.)