Kristen Suzanne is amazing!  I am an avid fan of her blog and look forward to her posts because they are always beaming with positivity.  Kristen is an accomplished Raw food chef who has written 12 Raw Food Recipe Book and eBooks and just finished penning her first book, Raw Awakening, which you can pre-order on Amazon now.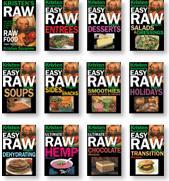 Kristen is also a former competitive bodybuilder who currently plans and prepares the nutrition fuel for her weight-lifting hubby, so she understands the nutrition needs of active high raw and vegan athletes.
It have enjoyed watching Kristen navigate pregnancy and motherhood.  Her blog is am amazing resource for vegan women who are pregnant or are planning to become pregnant soon.  Kristen also pens The Green Mommy Blog filled with  fun and useful information.  Kristen described her Green Mommy Blog as a place where she shares "[H]er green lifestyle as an eco-friendly mommy, including topics such as babywearing, cloth diapering, elimination, communication, green housekeeping, organics (for clothes, food, and living in general), traveling, product reviews, pregnancy, breastfeeding, bed sharing, recycling, beauty, fashion, and much more."
Through radio, television, books, classes, and her blog and email newsletter, Chef Kristen Suzanne helps people live life to the fullest with the healthiest cuisine in the world.
I hope you enjoy learning more about Kristen…
CV – What motivated you to become raw / vegan and was it an overnight switch or more gradual shift?
KS – I went vegan pretty much overnight after I devoured John Robbins' book Diet for a New America (that was enough for me, but I also loved his book The Food Revolution). After that, I learned about the amazing health benefits of raw food and decided that I wanted a life where most of the food I ate was raw. I was attracted to having tons of energy, preventing disease, and the possibility of living until I'm over 100 by eating super healthy. I have the most amazing husband and we want to live together as long as possible. And, now that we have a baby. Holy cow! We want to live as long as we can for her as well. But, it's not just living long… it's living long lives in good health at the same time.
CV – Tell me a little bit about
Kristen's Raw
and what inspired you to create the site.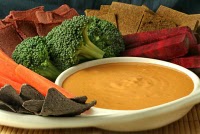 KS – For starters, I come from a family of chefs so I've always lived a "foodie" life. That, combined with my passion for nutrition, health, and food, started me in a certain direction. Then, my mission of saving animals by going vegan and teaching others about that lifestyle quickly became something I wanted to do full time. Put it all together and voila! Raw vegan chef, author, and blogger. Combining my passions of health, food, and saving animals into something I could be proud of was the driving force behind creating Kristen's Raw.
CV – Walk me through a day in your life.
KS – I wake up snuggled with my toddler, Kamea. We co-sleep which is divine. She breastfeeds, then we get out of bed, and head to the kitchen for breakfast. We follow that with reading and play time. Maybe run errands, too. Then, it's nap time. Since we co-sleep, I usually snuggle with her for her nap, during which time I also work from my iPhone (or read). After her nap, we plan dinner, play, run errands if needed, and then we go to sleep. Wake up. Do again.  Twice a week we go to the farmers market.
CV – I know you use to be a bodybuilder, what is your weekly training schedule like now?
KS – Prior to getting pregnant, I worked out 5 days a week typically. I strength trained about 3 of them and had a regular routine. But, since having a baby, I typically get my exercise all day long by carrying Kamea around, chasing after her, doing things around the house, taking walks, and trying to squeeze my latest obsession in… yoga (right now that's about twice a week). I don't have a steady routine, but one of these days I'll get it back.
CV – What do you typically eat in the span of a day and are you a snacker?
KS – Total snacker! For the most part, my food consumption changes every few weeks. I find a routine based on what's fresh at the farmer's market, along with a few other things, like what I have in stock at home for ingredients. I eat all day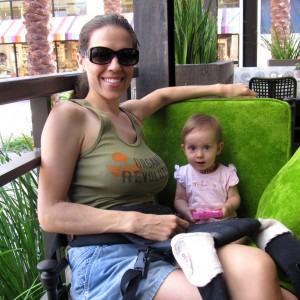 because I'm active and breastfeeding right now, while at the same time trying to get pregnant so I need extra calories.
I start my day with water, followed by fresh pressed veggie juice (sometimes), followed by a green chunky smoothie (I don't blend mine all the way, I like them chunky)… then I wait a bit and have a snack of fruit or a protein shake… a salad or two for lunch… snack of nuts or fruit or veggies with dip… then dinner is anything from veggie pasta to kelp noodles to large salads to something more gourmet like raw lasagna or pizza … and I love dessert, so you can count on me having raw chocolate or dates and nuts or raw cheesecake or raw brownies (sometimes 2 or 3!).
CV – What is your favorite raw / vegan indulgence?
KS – Raw vegan chocolate that I don't have to make myself!
CV – When people learn that you are raw / vegan, what is the #1 question they ask and what is your response?
KS – "That's really cool, I could never do that." I tell people a few things in response to that. First, it is really cool, so thanks! Second, it's easy and doesn't have to be an all or nothing game. I help them find ways they already have raw vegan food in their lives (and don't even realize it usually!), and then I tell them how they can effortlessly add tons more.
CV – What product could you not live without?
KS – Raw vegan chocolate – nuff said.
CV – What kitchen gadget could you not live without?
KS – Although I'm tempted to say my soon to be Norwalk Juicer because of the importance of juicing, I'd probably still have to go with my high powered blender – it is so versatile. I make nut milks, smoothies, chocolate mousse, raw soups, and more with it.
CV – In your wildest dreams what will your life look like in 5 years?
KS – I'll be parenting (and homeschooling) two kids (I have just the one toddler right now), while writing books, blogging, and traveling the world, with the occasional glass of organic vegan wine.