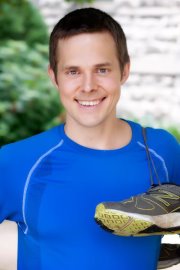 Matt Frazier is the man behind No Meat Athlete.  Founded in 2009, No Meat Athlete has become a big authority on how to train on a plant-based diet.  I am a subscriber and always find the posts to be relevant and very worthy of my time.
Matt and No Meat Athlete have been featured or listed as resources in several books, including:
Now that is impressive!  With approximately 13,000 subscribers, you know they are doing something right.
Allow me to introduce Matt Frazier…
CHIC VEGAN – What motivated you to become vegan and was it an overnight switch or more gradual shift?

MATT FRAZIER – I had been feeling an ethical pull to give up meat for several years, as I started to read and think more about consciousness and the lives of animals that end up on our plates. But I couldn't quite get past this idea, which is so prevalent, that going vegetarian would have a negative impact on my training as an runner, and possibly even my overall health if I couldn't get enough calories and protein.
It took going to a seminar by Tony Robbins (the motivational speaker and performance coach) to actually get myself to try a mostly plant-based diet for any length of time. At the seminar, he recommended a diet that was essential vegan-plus-fish, in order to maximize energy.
I gave the diet a try for 10 days and loved how I felt, and I immediately came to realize that this could actually improve my health and running, rather than detract from it. From there, I committed for another month, and gradually phased out the fish. It was another two years or so before I went vegan and eliminated the dairy and eggs.
CV – Tell me a little bit about No Meat Athlete and what inspired you to create the site.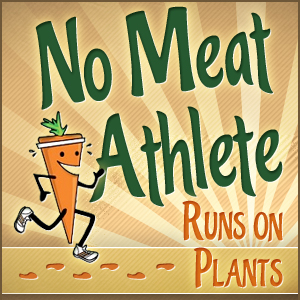 MF – Well, during those initial days experimenting with the mostly-vegetarian diet, I was still concerned about what impact it would have on my running and my ability to effectively train for marathons.
So I looked around on the internet a little bit for resources, and there just wasn't anything out there that was readable and seemed like reliable source of information. So I decided to start a blog about my experiment with going vegetarian, and figured at the very least people might be interested to follow my progress as I tried to qualify for the Boston Marathon with my new vegetarian. From there it just sort of took off, and as I've learned more about making a plant-based diet work with endurance training, the content has shifted more towards helping people out than simply journaling about my experiences.
CV – Walk me through a day in your life.
MF – Well, I can't say it's all that exciting … but maybe people will be interested in hearing what a full-time blogger does all day?
I usually get up around 6:30, basically whenever our 2-year old decides it's time for everyone to wake up.
I try to get my running done early (I've recently been on a running streak and just hit 50 days straight!), followed by a few sets of bodyweight exercises and then 15-20 minutes of sitting meditation.
Then it's a smoothie (almost every day), and after I'm finished with that I drink some green tea (or sometimes coffee) and I do a little bit of reading or plan my workday.
I try to write every day, and mid-morning is when I do that, but I'm still working on that one. Then it's email and whatever else needs to be done for No Meat Athlete, whether it's ordering new shirts or approving a design or tweaking old blog posts to make them more useful. I work on that like it's a regular workday, but I usually take a long break in the middle to hang out with my wife and son or to go to a bookstore or something else fun.
My evenings are pretty typical, and I'm trying hard to get away from doing any work after 5, so I can enjoy family time. Either my wife or I will cook dinner while the other entertains our son, and once he goes to bed we read, talk, maybe watch a show on TV. Sometimes, now that we're in Asheville where there's all kinds of music and good vegan food, we go out to a bar to eat dinner and see an early band before my son goes to bed — he loves that!
CV – What is your weekly training schedule like?
MF – It really varies a lot depending on what my goals are. Right now, for example, I'm running every day to build up a mileage base, to get ready for some longer ultramarathons (100K and 100 miles) in the fall and spring. So right now I go between 30 minutes and an 70 minutes a day, just easy pace, but I do it every day.
If I'm training for a marathon or 50K, I tend to follow a more structured schedule. I like to do three hard running workouts per week (speed, tempo, long) and nice, easy miles in between. I usually don't go over about 60 miles per week though.
I also like to do a little bit of strength training, and that always changes depending on what excites me. Right now I'm into bodyweight exercises, so I do pushups, sit-ups  dips, and a few different types of pull ups to keep a little muscle on.
CV – What do you typically eat in the span of a day and are you a snacker?

MF – Like I said before, I start every day with a smoothie. That, along with a salad in the afternoon, are the two big signposts in the day that I try not to miss. They're both great vehicles for getting a bunch of nutrients at once, and they also serve to "remind" me to eat healthily — after a salad, for example, I feel great and don't want to mess that up with chips or an unhealthy dinner.
Lunch is almost always leftovers from the previous day's dinner, and dinner can be just about anything that's healthy and vegan. I try to mix it up and almost never make the recipe more than once. Recently I've gotten into lots of ethnic cooking like Indian, Sri Lankan, Thai … they tend to have lots of recipes that are vegetarian or vegan as-is, which is always better than having to alter a meal and substitute for the meat. Beans and rice is a standard, but sometimes it's lentils and quinoa, or lots of variations on that theme.
And yes, I am a snacker, so I usually eat something between each main meal. But most of the time it's nuts, hummus on a pita, almond butter on a bagel … things that fit into my diet and that I believe to be healthy. So it's not that snacking is a bad thing.
CV – What is your favorite vegan indulgence?

MF – Hmm, there are a few! Pizza was the food that for the longest time kept me from becoming vegan, so now pizza with vegan cheese (Daiya) is a big indulgence for me. I also like those fake-meat sausages that Field Roast makes. And even though I don't have much of a sweet tooth, I love vegan cupcakes! I'm always amazed that vegan cupcakes are one dessert that seem to taste better than the non-vegan version.
CV – When people learn that you are vegan, what is the #1 question they ask and what is your response?
MF – Without a doubt, it's "What about protein?", especially because I'm a runner. My answer is that you simply don't need as much as is commonly thought, and that most people eat more protein than is healthy. I shoot for about 15 percent protein (and I even think that's on the high side), and it's really not hard to get that amount. I just make sure that every meal or snack I have has something protein-rich in it, even if it's just nuts on a salad or beans in a pasta dish. It's really not nearly as hard as people think; I almost don't even think about protein anymore.
CV – What vegan product could you not live without?
MF – Definitely water.  And my New Balance Minimus, a trail running shoe that I wear around all the time as my regular shoe. And they're vegan, which is great.

CV – In your wildest dreams what will your life look like in 5 years?
MF – Wow, that's a tough one. It's so hard to even guess at that, because my tastes change so often and what excites me one day might not do it for me the next. Right now, one of my long-term dreams is to run the Badwater Ultramarathon, which is 135 miles through Death Valley. I haven't even done a 100-miler yet though, so I've got a ways to go! Running across the country would also be amazing, and maybe that's a five-year goal. Maybe.
And I'm really motivated by business and entrepreneurship. No Meat Athlete has been a great first business and I'm so grateful that I can do it as my job, but I definitely have a hunger to start other businesses. So maybe in five years I'll have another one to go along with No Meat Athlete.
To become a subscriber of No Meat Athlete, cruise on over to their site by clicking HERE.