Heidi Kristoffer is a yoga teacher in New York. She is all about laughter while challenging yourself. She is a sweet, reflective, and clever yogi who happens to be vegan! She runs a very active blog where she posts recipes (all vegan) and her reflections on yoga. 
I was able to interview her in early October. See what Heidi had to say about everything from yoga, animals, smiling, and food! 
Chic Vegan – How did you get into yoga?
Heidi Kristoffer – I moved to the far west side in NYC, and googled gyms in my new neighborhood.  A yoga studio came up in my google search, and with much grumbling, I decided since everyone said it would be so good for me, I would try it out.  I feel head over heels in love with my first class, and have practiced yoga every day since.
CV – You are not only a yogi, you are also a vegan lady. How did you become a vegan?
HK – I was born allergic to seafood, shellfish, and dairy.  When I moved to NYC I was trying to save money, so I decided not to buy any red meat.  After not eating it for six months or so, I went home and ate some.  The result was excruciating pain in my stomach; I was curled up in the fetal position of my childhood bed for hours.  It seemed to me that my body was trying to tell me something, and so I stopped eating it.  Gradually, my body stopped wanting chicken or any other kind of animal, so I stopped eating them. I eat what makes my body feel its best: for me, that is vegan.
CV – Is veganism common among yogis?
HK – Yes and no.  I find that those who practice yoga are more mindful of their bodies.  When you are connected to your body like that, you don't want to be weighed down by meat or dairy.  Vegetarianism is more common, I think, in those who practice yoga, than veganism.
CV – Is there a relationship between the two ways of living for you personally?
HK – I love animals.  All of my dogs have come from shelters.  And, the idea of eating animals, now that I have had time to think about it (I feel like as children, when you are fed things, you aren't taught to think about it, but just to eat what you are told, or at least I did), I don't want any part of eating anything that had a mother.  I also love to feel strong and not weighed down. For me, eating a vegan diet and feeling great go hand in hand,
CV – What are some of your favorite vegan treats?
HK – Vegan Treats' Brownie Chunk Cheesecake is to die for (I ate it last night): chewy brownie bottom, covered in a layer of decadent cheesecake, covered in chocolate ganache, covered in a heap of gooey brownies, topped with chocolate sauce.  Insane.
Also: Pure Food & Wine's Raw Vegan Chocolate Mint Sundae is out of this world!  Many  claim it to be the best dessert in existence: no need to qualify vegan or raw.  I tend to agree.
Another place that deserves noting is Peacefood Café here in NYC, they make their desserts there (which a lot of the vegan places here don't do), and their grasshopper cookie sandwich and their strawberry shortcake are both drool-worthy
CV – Describe a day in the life of Heidi Kristoffer. When do you practice yoga?
HK – Oh, wow! Every day is so different! Every moment is a new one.  I like to wake up early, take a few deep breaths and stretch out in bed.  Then, I eat some breakfast (maybe tofu salad on a whole wheat pita or oatmeal or a pea-protein filled smoothie.)  After breakfast, I will drink some Yogi Tea, digest, and do my best to respond to emails.  Then, when I am all digested, I will do my yoga practice.  I like to light some Nag Champa incense, roll out my mat and move around for at least 75 minutes, and then meditate for at least 15 minutes if I can.  After all of that, I usually clean up and head over to Strala to lead a class.  After hanging out with everyone at Strala for a while, I will walk home, maybe hit up a farmer's market or Trader Joe's along the way, have some lunch, work on any articles I have open, respond to emails, perhaps put some veggies in the crock pot for dinner, and then usually head back to Strala.  After evening classes, I will either meet some friends out to eat, or head home and make some dinner.  After dinner, I will have another cup of yogi tea, respond to any last emails and do any bits of computer work.  Finally, I will head to bed, use my shoulder massager for twenty minutes, meditate for about twenty minutes, and go to sleep!
CV – Yoga comes in various types. What is your favorite type of yoga?
HK – I like to move around and connect my movements with my breath.  I like anything that doesn't make me feel stuck and allows me to move with ease is great in my book.
CV – You often talk about your injuries. Can you talk about how yoga helped you heal?
HK – When I was 18, I was in a serious car accident that let to what I was told would be "permanent damage" to my neck and cervical spine. My doctors at the time told me that I would never regain full mobility in the movement of the neck.  I had herniated discs in different parts of the spine as well as two broken vertebrae in my lumbar spine. Because of these injuries, when I approach the physical postures of yoga, it has always been extremely important to me to focus on core work and strengthening even the tiniest of muscles that surround the spine, seeing as the alternative was surgery, which was not something I was interested in.  Recently, I went in to get a check-up MRI on my cervical spine. When I went to go see my doctor for the results, he informed me with incredulity that the herniation in my neck was gone! I had successfully re-lengthened my cervical spine through all of the yoga and inversions, reversing the damage, healing my neck! My doctor fully supports this theory: the healing is a result of the lengthening and strengthening from yoga and inversions.
CV – Which poses are your favorite yoga poses? Why do you like them?
HK – I love being upside down!  In handstand and forearm stand mostly, but I'll hang out in supported headstand for lots and lots of breaths – anything to flip perspective without compressing my neck.  Plus, all of the blood rushes to your head, and it makes you happy!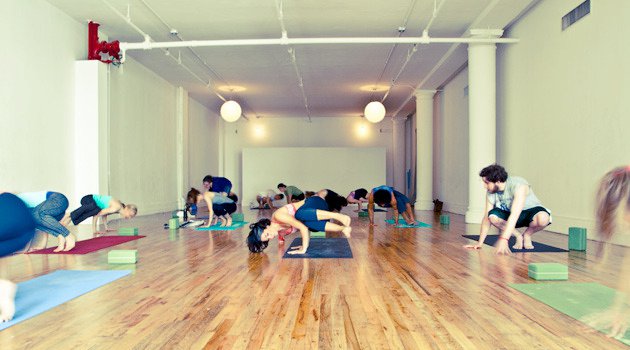 CV – You practice yoga at the Strala studio. What is a typical day at Strala and what are the ethics or practices you have learned there?
HK – I am the General Manager as well as part of the creative team at Strala Yoga in NYC. I am there pretty much every day, which is awesome, because I love, love being there!  I lead a bunch of classes and I take a bunch of classes. At Strala, we all move and breathe with ease. It is amazing to see how strong and capable everyone there is, and to be surrounded by such positivity
CV – Is there a stereotype or a perception of yoga that you find to be inaccurate? What has been your experience with yoga like?
HK – Yoga has changed my life, in every possible way, for the better.  If there are stereotypes about yoga, I don't pay attention to them.  I focus on the positive in everything, and in doing that, the negative doesn't get any focus, as it doesn't deserve any.
CV – Finally, what advice would you give to those interested in yoga or in fitness in general?
HK – Do it! Move, breathe, don't force yourself, and have fun! I never take myself too seriously, which I think is a fun way to approach new things.  Try not to take yourself so seriously that you can't try to tip into a crow pose and end up falling on your bum without laughing at yourself.  When you think about it, falling on your bum, if you don't hurt yourself (which you won't if you don't force things), is pretty darn funny  Laugh a little. Smile: it's contagious!