Ladies (and gents) – The state of natural hair dye is depressing.  Sure, there 's a variety of vegan dyes to choose from, but are they really, truly 100% natural and safe to use?  Let's look at a box of "natural" hair dye, shall we?
PEG-2 Oleamine, Aqua (Water), Cocamide DEA, Alcohol Denat (Alcohol), Propylene Glycol, Ethanolamine, Oleic Acid, Hydrolized Vegetable Protein (Triticum Vulgare, Soy, Corn, Avena Sativa), Sodium Sulfite, Sodium Ascorbate, Tetrasodium EDTA, Parfum (Fragrance). p-Phenylenediamine, 4-Amino-2-Hydroxytolueno.p-Aminophenol, 2-Methyl-Resorcinol, m-Aminophenol, 4-Chloro Resorcinol, N,N-Bis (Hydroxyethyl)-p-Phenylenediamine Sulfate, 2-Amino-4-Hydroxy-Ethylaminoanisole Sulfate.
I used this product for YEARS, and even purchased from my local health food store.  Do these ingredients sound "natural" to you?  They sound like they all came from a lab—in fact, the majority of them did.  Especially p-Phenylenediamine—Also known as PPD—this chemical is highly toxic and linked to many allergies and chemical sensitivities. It's mostly used in manufacturing practices for dyeing leather, fabrics, and textiles—Gasp!—no thanks. PPD may cause severe dermatitis, eye irritation/tearing, asthma, gastritis, renal failure, vertigo, tremors, convulsions, and coma—yikes!
Then I discovered Henna: Imagine simply applying powdered plants & herbs on your hair and the result is stronger, healthier locks with a deep color that really lasts. It's the only vegan and natural hair dye product that I actually feel great using.
What is Henna?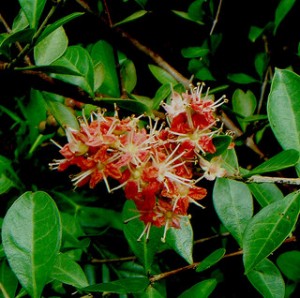 Henna (Lawsonia Inermis) is a flowering plant. The leaves of the Henna plant contain a natural and very effective coloring pigment called lawsone.  It's naturally a coppery-auburn color, but can be mixed with other herbs and plants to achieve nearly any color under the rainbow. Henna pigment molecules actually color by safely binding to the hair's protein (keratin). Henna has been trusted for hair & body for thousands of years—evidence of cosmetic use found from ancient Egypt to Persia to the Roman Empire.
Interesting Henna Facts and Tips
Once mixed with water, henna activates. Buying powdered henna and mixing your own paste is the best way to get the highest quality color. Henna in anything other than powdered form probably contains chemical stabilizers and other nasty ingredients.
Henna hair dye products have their own natural scent. All ingredients are green plants and flowers, so they will smell like powdered plants. Some might call them a little "earthy", but hey—they're a zillion times better than inhaling the chemically strong, noxious scent of traditional retail brands.
Henna is safe to use for those who are pregnant, nursing, cancer patients (and survivors), or have auto-immune disease. In fact, it is the only hair dye that is truly safe for these people.
It takes about 48 hours for henna's color to fully develop. The base color sets quick after rinse-out & dry. Undertones & highlights may slightly transition longer.
Note: You can only go darker(or redder) with henna hair dye products. Henna doesn't lighten hair. It doesn't contain anything to strip or bleach.
Although some may argue this – my experience with henna has left me with thicker, stronger, shinier hair.
The henna that I use, Henna Color Lab is a local (Portland!) based business that is PETA® Certified Vegan & Cruelty-Free. Their ingredients are amazing and their website is very informative. It's the best quality henna that I've ever used—the color literally NEVER fades from my hair (a problem I've had with every other dye, ever.)
If you want to give Henna-based Hair Dyes a try,  Henna Color Lab has given us a coupon code good through January 31st 2013 for 20% off all products:  CHICHENNA20.
Get 20% OFF at Henna Color Lab by using coupon code: CHICHENNA20
*Coupon valid for all individual products. All sale items and Bundles are not included in promotion. 
 Photos by Bill Kuffrey and adaduitiokla on flickr.