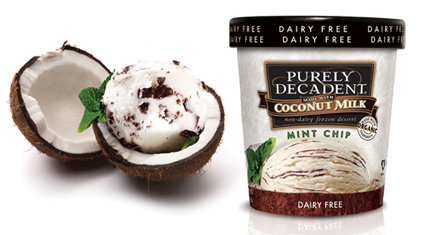 Sorry to have two food posts in a row, but I just wanted to briefly share my love for this amazing treat that I have just discovered: Turtle Mountain's Purely Decadent Dairy Free Ice Cream made from Coconut Milk!!!! This yummy dessert was a sweet relief in a vegan world overloaded with soy everything. I have only tried the Mint-chocolate chip version, but the others look delicious as well. Shall I list the reasons why I love this oh so much? Okay then..
You can taste the coconut flavor, but it is not overpowering and it compliments the other flavors perfectly.
Mostly organic.
Sweetened with agave.
Contains only 11 ingredients including the chocolate chip components . (And all are easily pronounced)
Tastes like heaven.
For more about Turtle Mountain and their products go here: http://www.turtlemountain.com/