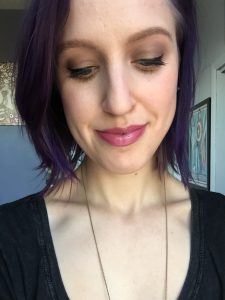 Glamour Dolls Makeup is an entirely cruelty free line of products with vegan options that perfect for any babe on a budget. I recently received an adorable kit of items, and have been trying them out for a few weeks. Overall I think this is a great company to check out if you're interested in bunny-friendly products without breaking your bank! Plus, all of their products have really cute and funny names. 😂 I made a look using as many of the Glamour Doll products as I could, and I'm happy with the result!
Fakecation Bronzer ($4.99)
Holy moly, this is the largest bronzer I've ever seen! Their site describes it as XXL, and that could not be more true.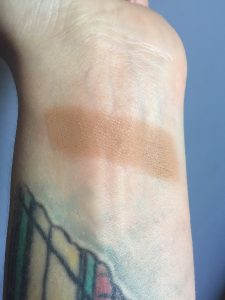 The shade is matte, which makes it extremely versatile! While I love shimmery bronzers, matte is a staple that no girl (or guy) should be without. This bronzer has great pigmentation, without being too dark. I can see this shade working for a variety of skin tones, since I found you can easily build it up and make it darker if you want. The texture can be a bit powdery, but I didn't find it hard to blend.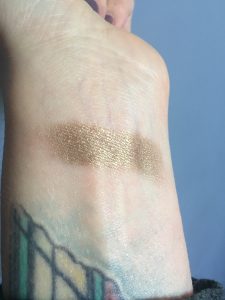 Eyeshadow in Backstage ($3.99)
This eyeshadow is a gorgeous antiqued gold that could easily fit into a lot of makeup collections. Try applying with a damp brush for more of a foiled look on the lid, or just on its own for a subtle, bronzy gold shimmer. As with the bronzer, I found this product to be a little bit powdery, but not difficult to blend.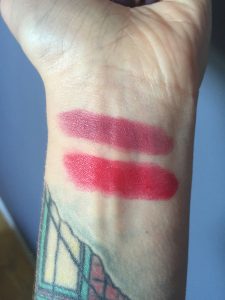 Lip Cream/Lipstick in Boxed Wine and Fetish ($2.99/each)
These are labeled as both Lipstick and Lip Cream on the Glamour Dolls website, so I'm not sure exactly which one to use¯\_(ツ)_/¯ But seriously, how tongue-in-cheek are these shade names? I love a beauty brand with a sense of humor!
These lipsticks glide on pretty easily, and have good pigmentation. They are a semi-matte finish, so if you're like me and the liquid-to-matte trend has your lips constantly cracked and dry, this will be a nice break. My only complaint is that the smell is bit too sweet for me, like vanilla frosting. (I know there are people who love this type of scent, though.)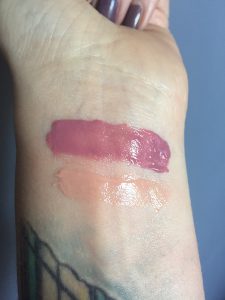 Gloss Snob in Topless and Mood Ring ($1.99/each) 
Who else was obsessed with mood rings when you were younger? 🙋 While I'm not a huge gloss fan in general, these are nice. They have good pigmentation for a gloss and aren't too sticky. These have the same sweet scent, too, so keep that in mind if you're like me and don't love overly sweet smells.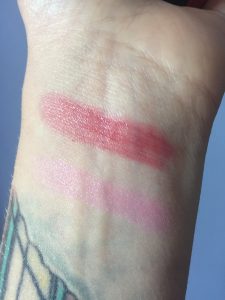 Kitty Kisses Tinted Lip Balm in Glamour Puss and Best Furrriends ($2.99/each) 
Yay for tinted lip balms with SPF 15! I often forget to wear SPF on my lips (bad, I know), so this is a great product if you're looking for a minimal swipe of color or to layer underneath lipstick.
Out of everything from Glamour Dolls that I've tried, I found myself reaching for the Fakecation Bronzer the most. The glosses are great for layering on top of the lipsticks, and adding some extra color and shine. The Kitty Kisses lip balm is great for layering underneath anything else you've got on your lips for the SPF protection and added moisture.
Have you tried Glamour Dolls? Share your thoughts in the comments!
Disclaimer: These products were provided for my consideration, but all opinions are my own.